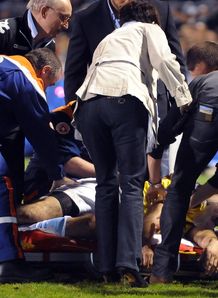 Bayonne number eight Francois Carillo is a doubt for the side's upcoming fixtures after suffered a suspected heart attack while warming up for a game last weekend.
Carillo was rushed to hospital last Saturday after collapsing whilst warming up ahead of the Top 14 clash with Mont-de-Marsan.
Reports say the player received cardiac massage from a heart specialist team before being taken to hospital and placed on a respirator.
"No anomalies were detected from all the tests carried out since Saturday evening," said a hospital statement.
"His general condition is still constantly improving. New tests are being conducted to determine the precise reason for the problem."