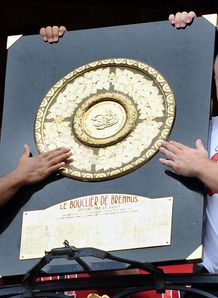 Toulouse forwards coach William Servat could make a return to the playing field after being named in the French side's extended European squad.
Servat retired from the game at the end of last season after an 18-year career. However, injuries to regular hookers Christopher Tolofua and Gary Botha have seen him included in Toulouse's standby squad ahead of their European Cup campaign.
"When we saw Christopher (Tolofua) in difficulty with his shoulder and Gary Botha injured we were left with just one high quality hooker," coach Guy Noves told AFP.
"William Servat, who trains regularly, could perhaps be the solution," he added.
The club have requested that a player license be issued to Servat but Noves was quick to add that the 33-year-old would only be used as a desperate measure.
"It will take three months to get William Servat to his best level - for now it's just backup," he said.