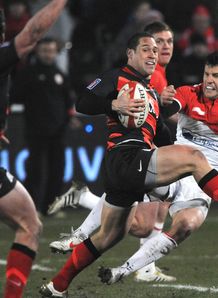 Related links
Also see
Two losses in their first five games is a run of form champions Toulouse will be looking to change against Bayonne at Stade Jean-Dauger this Friday.
Nineteen-time winners of the domestic title and a record four-time European Cup winner, Toulouse are an undisputed heavyweight of club rugby.
However, a disappointing start to the season has seen them lose to Biarritz and more recently Perpignan as coach Guy Novès plots a recovery.
"Competitive sport is made up of good moments, less good ones, successes and failures," he said.
"This (past) weekend was more of a failure. However, it doesn't lead me to question the work put in over many years. It is imperative, though, that we work hard and that will help us rebound and play better in our next match."
Toulouse lost 34-20 to Perpignan on Saturday - having trailed 27-6 at half-time - to leave them fifth in the Top 14 table, seven points off unbeaten leaders Toulon after five matches.
"This is simply a team that is in the process of finding its reference points, who have experienced three successful years and who naturally believe the serious part of the season only gets under way in the play-offs," said Novès.
"It is true that for 19 years we have regularly been involved in the title play-offs, and that has contributed to this lax attitude at the beginning of the season where one says that things only become important a little later.
"However, the players must realise that points lost are never recovered.
"Certain teams paid dearly in the past for such laxity and we don't want to be one of them."