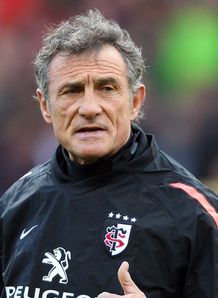 There is no crisis at Top 14 champions Toulouse despite them losing two of their opening five matches of the season.
That is the word from Toulouse's legendary coach Guy Noves, who has guided the club to four European Cups and 10 French league titles during his 23 year tenure.
The 58-year-old added, however, that the players needed to wake up and realise their lax attitude could cost them a place in the play-offs.
Toulouse lost 34-20 to Perpignan on Saturday - having trailed 27-6 at half-time - to leave them fifth in the Top 14 table seven points off unbeaten leaders Toulon.
"We conceded 67 points agaisnt Wasps several years ago," said Noves, who was referring to the 77-17 thrashing by the English club in 1996 but they rebounded to win the French title.
"Therefore then there wasn't a crisis. Competitive sport is made up of good moments, less good ones, successes and failures.
"This weekend was more of a failure. However, it doesn't lead me to question the work put in over many years.
"It is imperative, though, that we work hard and that will help us rebound and play better in our next match."
Noves, who was a stylish winger as a player winning seven France caps and collecting two French titles with Toulouse in 1985 and 1986, said the team was desperately trying to regain the form it had shown over several seasons.
"This is simply a team that is in the process of finding its reference points, who have experienced three successful years and who naturally believe the serious part of the season only gets underway in the play-offs," he explained.
"It is true that for 19 years we have regularly been involved in the title play-offs, and that has contributed to this lax attitude at the beginning of the season where one says that things only become important a little later.
"However, the players must realise that points lost are never recovered.
"Certain teams paid dearly in the past for such laxity and we don't want to be one of them."