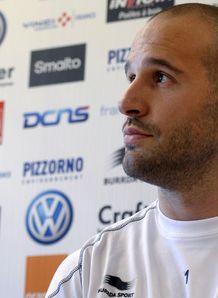 New Toulon half-back Frederic Michalak is enjoying his return to the Top 14 but admits he and his team-mates still have room for improvement.
Michalak - who ended his two-year international exile when he played in both Tests on the tour of Argentina in June - agreed to return to France from South Africa, where he was playing for the Sharks in a second spell, after a persuasive selling job by Toulon's president Mourad Boudjellal last December.
Michalak, who first played for the Sharks in 2008 and won the Currie Cup before agreeing to return there last year, played his first Top 14 game in more than a year last Saturday.
Having left Toulouse towards the end of the 2010-11 season, his return home came for Toulon in a 29-15 win over Mont-de-Marsan that made it three wins from three games for his new side.
The 29-year-old, whose list of honours includes three Heineken Cups during his 10 years at Toulouse, said he was delighted to have restarted his career in France with a victory, but added that there was much work to be done.
"The match was not exceptional from a team point of view," said Michalak, who has been capped 56 times and has been reunited with former France coach Bernard Laporte, who selected him for both the 2003 and 2007 World Cups.
"However, we will put that right," he added.
"Each week we will try and improve.
"We are joint top of the table so that is good, especially for our confidence."
Michalak identified where they needed to improve.
"We are still losing a lot of possession, we are lacking in our attacking game but it is only the beginning of the season and we are conscious that we should do better," he revealed.
"We are already better individually so I am sure that as a team we can get better as well."
Michalak, who is enjoying playing and training alongside former England fly-half Jonny Wilkinson, hadn't given returning to France much thought until Boudjellal started courting him.
"I was in South Africa and not many people were thinking of me at the time back here," he said.
"Mourad Boudjellal spoke to me about the club, the supporters, his love of the shirt, the history of the club which I didn't really know a lot about.
"And it is that which I really liked. And then it is also a club that has signed over the last five years players I really wanted to play with.
"At the moment I am very well here, there is a really good atmosphere."
Michalak, who reached the Super Rugby final with the Sharks, where they were outclassed 37-6 by the Chiefs, is happy to be back under Laporte's tutelage.
"It is going well," he said.
"For the moment he is giving me time to fit into the team and to learn the different combinations.
"I am all ears for what he asks of me. If Guy Noves (Toulouse coach) and he have a different vision of rugby, at the same time they are both leaders, and they both have the capacity to rally the players round at difficult times."
Debate has raged round Michalak throughout his career whether he was best at scrum-half or fly-half and it was not a question he is willing to resolve.
"It is a question that has been put to me since the age of 18," he said.
"And the answer is the same, I will not reply as it serves no purpose."