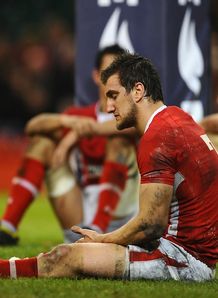 Related links
Teams
Wales coach Warren Gatland admitted his side were "gutted" after being beaten in the last minute by Australia in Cardiff on Saturday.
A try by Kurtley Beale in the final minute handed the Wallabies a sixth consecutive victory over Wales dating back to the Rugby World Cup, with the loss meaning that Wales finish their November Internationals having lost all four of their matches.
"We are pretty gutted," said Gatland.
"I thought apart from the last minute, we played some outstanding rugby today. It was a close, tight Test match, which you expect. We put ourselves in a position where we should have won."
"The disappointing thing for me is we turned over a line-out and it was obvious Australia were going to run the ball from behind the goal-line and we allowed them to get 30 metres from that and release a bit of pressure. We should have had guys in the front line and defended that a bit better.
"Also in the last couple of plays we had people hanging back so it was a bit of naivety. It was a tough match and it was disappointing.
"We haven't spoken to the players yet but I would want to know what was our communication at the last scrum. They were set up to move the ball and we had to make sure they did not get out of their 22. I am not sure we communicated or spoke but until I speak to the players I am not sure."
"Even if we had won today we would have been disappointed after dropping a couple of games (against Argentina and Samoa). But in the second half last week and today we played some good rugby and showed we are a good side - we just need to be smarter at the death.
"That's a few times that's happened against Australia where we have not been able to finish them off and we need to be more clinical."
Wales captain Sam Warburton described the loss as the toughest of his career.
"We kept them out for the whole game and defended reasonably well, and it is probably the hardest defeat I have had to take as a player," said Warburton.
"I was gutted when I looked up and saw the break and saw Kurtley Beale going for the line. You knew that was it, really.
"It was demoralising because the effort was there from everybody and it felt like today was the day we were definitely going to do it."