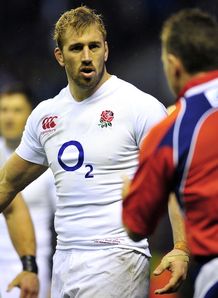 Related links
Teams
England captain Chris Robshaw accepted responsibility for the decision to go for points rather than the corner late on against South Africa.
"All those decisions comes down to me," said Robshaw.
"I thought we had the time to get the points and get back down there. We always look back at decisions. It was one of those where if we had won it would have been the right decision. Unfortunately we were on the wrong side of the result today. We will go back and look at the video and analyse it."
Robshaw received criticism after last week's loss to Australia for opting to go for the corner rather than take the points on offer, except this time round England were booed by the crowd for going for goal rather than attacking the try line with time running out.
"We discussed it and I have to make those calls at the end of the day, that is on me and I thought we still had time to get the points, get back down there with the re-start and put ourselves potentially in drop goal or penalty range," added Robshaw.
"I am the one who makes that call. It is on me. People have to make their own decisions. You have to read the game the way it's going, how you feel you can get the best out of it."
England replacement fly-half Owen Farrell appeared to initially disagree with Robshaw's decision, before converting the penalty that brought England within one point of South Africa giving them hope of a victory.
"It wasn't my decision. Not that it was completely on his shoulders. We were always going to back his decision because he is the captain and makes the calls," said Farrell
"We still thought we would win the game. We have played very well today, I thought. I thought we played a lot of good stuff.
"We thought we controlled most of the game. We were unlucky because their try was a freak, you don't see many scored like that.
"The heart the boys showed, the will to win, the will to put their bodies on the line - when it is time to get stuck in, it is time to get stuck in and I think we did that unbelievably well today."