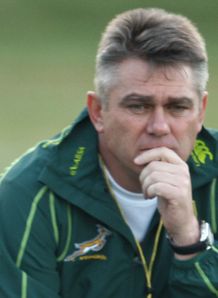 Related links
Teams
Springboks coach Heyneke Meyer believes Saturday's clash with Scotland will be ideal preparations for the 2015 World Cup in England.
Meyer, who has experience of coaching in the Premiership with Leicester Tigers, said although avoiding another loss to Scotland was important, he wants his players to get used to the kind of damp, heavy conditions they can expect to encounter at the global showpiece.
"Here every single facet of play is an unbelievable battle," he said.
"These guys scrum for penalties, it's not just the start of the game.
"One big difference is the breakdown. I think Scotland are superb at the breakdown, if you just look at what happened against New Zealand.
"It's more fierce, it's more a battle and more physical, I believe, because it's a little bit slower and you need a different type of player.
"With the World Cup being here the more we can play here the better."
Meanwhile, Springbok lock Juandré Kruger has warned his team-mates of the threat which Scotland tighthead prop Euan Murray could pose in Saturday's Test.
Murray was recalled after missing Scotland's defeat against New Zealand last Sunday due to religious reasons.
Kruger and Murray were team-mates when the Springbok played for Northampton Saints in the Premiership two seasons ago.
"I played with Euan for two seasons at Northampton Saints in England," he told Die Burger newspaper.
"And everyone knows he is one of the top scrummagers in the world."
Murray played in Scotland's 21-17 victory over South Africa at Murrayfield in 2010 and was named man-of-the-match when the Boks cliamed a narrow 14-10 win at the same venue in 2008.
Kruger highlighted how important the set-pieces are for the Boks especially after they registered a 100 percent success rate in the line-outs and scrums against Ireland last week.
"We put a lot of emphasis on scrummaging, kick-offs and line-outs - because that's where the foundation is laid," he said.
South Africa's win over Ireland was an important one as it saw them trading places with Australia - who suffered a humiliating defeat to France - in the IRB rankings.
"We moved to number two in the world rankings after Dublin and for us that is very important as it is our aim to become the best team in the world," said Kruger.
"That is why we are very serious about winning all the matches on this tour and why we definitely won't be underestimating Scotland."