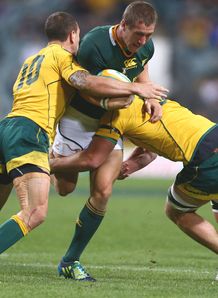 Related links
Teams
New Springbok fly-half Johan Goosen is refusing to get carried away despite impressing, when he made his debut as a replacement, against Australia in Perth on Saturday.
The 20-year-old made a few line breaks and brought more urgency to South Africa's attacking play during an exciting cameo in the last 10 minutes of the Test but remained humble after the match.
"I can't take any credit," he told Supersport
"It is a team sport. I just did what was expected of me. It would have been a lot nicer if we could have won. We are very, very disappointed to come away with a loss but it was very exciting for me to get my first cap.
"Now that it is over I can concentrate on going forward.
"You can't really do too much in 10 minutes. I just tried to do my best but I could have perhaps done a bit better in one or two instances. It was my first game but that is not an excuse."
Goosen said he still couldn't believe that he has made his Test debut.
"It hasn't really sunk in yet," revealed the Cheetahs pivot.
"I was a bit nervous but it is an honour and privilege it is just a shame we couldn't pull off a victory.
"The week went pretty slowly. I had to learn all the calls and moves and I was pretty nervous but it was a great week and we prepared well and it was really enjoyable."
Meanwhile, fellow debutant loose forward Duane Vermeulen said there was little that he could remember about the Test.
"It was a bit of blur," he said after the match.
The only thing I could remember is a turnover. You had to hang onto that ball for about 10 seconds before the ref gave a penalty.
"It is a little bit different than playing Super Rugby.
"They are more pedantic on the breakdown there but today it felt a bit like a free-for-all.
"There were a few things that I wasn't used to. It is just about getting the communication up a bit but it felt great to be with the guys with them chatting to me and explaining to me where to go and what to do.
"It is the Springbok system and not your provincial set-up. It is a whole different ball game but I am feeling a bit more confident after this game.
"I had a few handling problems. The ball was a bit slippery and there is always something to work on but I am feeling positive that I came through the game okay."
Despite having very little game-time before Saturday's clash the Stormers number eight disagreed with suggestions that he was not match-fit.
"I think your match-sharpness during a game is in you," explained Vermeulen.
"When you are playing you know where you are supposed to be and what to do.
"The only thing is, if you haven't had much game time, it makes it harder to do things faster.
"I think I did okay in the first half. I was a bit erratic but I think I did better in the second half when I had settled a bit."