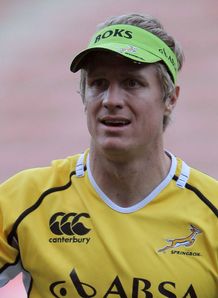 Related links
Teams
Springbok captain Jean de Villiers expects his team's impressive record against Australia in Perth to play a vital role in Saturday's Rugby Championship hit-out.
South Africa have won three and drawn one of their six Tests against the Wallabies in Western Australia, and De Villiers admits that his team enjoys playing in the city which has a large South African expatriate community.
"It's always good to have the odd supporter in your favour," he told AAP.
"It definitely makes the jet lag and all of that a bit easier in that it's a shorter flight, the time difference isn't that much and you're able to adapt a bit quicker.
"We have had success in the past so surely that must count for a little bit but... it's Test match rugby, we have to be professional."
Wallabies prop Ben Alexander was part of Australia's team that suffered a 32-25 defeat in Perth in 2009 and revealed that his team are aware that South Africa enjoy playing there.
"That was the year they were the best in the world, and they touched us up in that game," he said.
"It's definitely a happy hunting ground for them ... they do have quite a big fan base over here and that's going to help them make our challenge even tougher.
"But we're up for it."