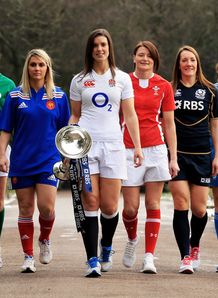 The Six Nations starts the global qualification process for the Women's Rugby World Cup to be held in France in 2014.
With England and host nation France already qualified, the final standings for Wales, Ireland, Italy and Scotland at the conclusion of this tournament will see the two highest-placed teams on aggregate secure a Rugby World Cup placing.
Amanda Love previews the action.
Round One preview:
Italy v France
Rovato Brescia
Whilst having the backing of a strong and boisterous home crowd, Italy will come up against a full-strength France team that have the luxury of including their national seven's players into their selection process. France should win this Test comfortably. However, they will not rest on the laurels as the last time these two sides met, France were lucky for the victory and will look to rectify this on the scoreboard this weekend.
Italy will be confident after their dominant display against Spain winning 29-12. They will need to retain possession in this Test and force France down into their own 22 to build pressure and test them defensively. If they can do this successfully, penalties will come and they will be given the opportunity to put points on the score board.
---
England v Scotland
Esher Rugby Club
Reigning title holders England, whilst without seventeen players who are involved with national sevens duties are still favourites to win this tournament. This Test will be a battle won up front, where England have the dominant pack in terms of experience and strength. This will help set the platform for a relatively young England backline to test Scotland.
Scotland ,who are only just starting to see the fruition of their U20's programme for player development, will struggle against a more forward-dominated game style by England.
Speaking to BBC Sport's Sarah Orchard, Captain Susie Brown said: "We never forget that it hurts to finish bottom, and it's something we desperately try to avoid. We go out there to be competitive and try to win games".
If Scotland can be competitive at the breakdown and work hard on defence this will give them valuable experience leading into one of their key games against Italy in Round Two.
---
Wales v Ireland
Aberavon FRC, Port Talbot
Believed to be the dark horse of the Six Nations, Ireland will need to defeat Wales this weekend to kick start their campaign.
They will take heart knowing they defeated Wales last year 36-0 in front of an ecstatic home crowd. However this year, it will not be that easy in Aberavon. Look for Ireland's most seasoned campaigner Lynne Cantwell to direct the play and lead from the front in this match.
Wales coach Rhys Edwards has named a very experienced side to take on Ireland. With the return of some key players in Catrin Edwards, Gemma Hallett, Catrina Nicholas and Elinor Snowsill, Wales will look to impose themselves into this game very early on.
If they can keep ball in hand, be effective in the collision and breakdown zone they could find some possible gaps opening in Ireland's defensive line. Calling it early, this will be the game of Round One.
With all teams trying to remain focused on the task at hand, it is easy to understand just how crucial each of these Test matches will be in determining which countries will automatically qualify looking ahead to the Women's Rugby World Cup in 2014.
When every point matters and margins are taken into account, this will make for an interesting Six Nations Campaign.
By Amanda Love