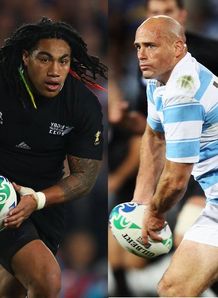 Related links
Teams
Also see
If Argentina beat New Zealand in Sunday's World Cup quarter-final in Auckland, I'll eat my favourite Pumas replica jersey.
I really love that jersey - complete with the ice cream and red wine stains picked up in Buenos Aires - but I couldn't be more confident that it'll see plenty more years service from it.
I'll admit it, I'm a Pumas fan. Much as I hate the way they play the game, I love what they represent in world rugby: the growing global appeal of the sport and the power of a never-say-die attitude. The fact that they have been punching above their weight for the last decade, is a tribute to the fighting spirit that makes this game great.
But they won't beat the All Blacks.
For all their tenacity, the Pumas simply do not have the necessary weapons to trouble the World Cup favourites - and favourites they remain, with or without Dan Carter.
While Argentina are a symbol of how far combativeness can get you, New Zealand are very much the benchmark by which all teams measure themselves. This generation is as good - if not better - than any other to come before them and their time to shine has come (for real this time).
Those who are suggesting that the loss of His Fly-halfness signalled the demised of the hosts' hopes are totally misguided. Sure Colin Slade is not DC, not by a long shot, but one man a team does not maketh.
The All Blacks have no weaknesses - at least none that Argentina have the resources to exploit. The Pumas' forward-oriented game, centred largely on kicking penalties and spoiling tactics, might be enough to trouble many teams - and it brought them within inches of beating England - but it won't be enough to stop Graham Henry's men in black.
Trying to contain the All Blacks simply won't get a positive result. In many pundits' opinion, only the Springboks can beat the hosts because they are the only team capable of putting them under sufficient pressure to force mistakes.
Los Pumas will be fired up like never before - what a sight it will be to behold - but all the passion in the world is no substitute for clinical execution.
To beat New Zealand you must score tries, because they sure as hell will. The All Blacks have touched down in each of their last 93 Test matches... so defending and kicking three-pointers is never going to be enough.
The pool stages won't offer much encouragement for the visitors, since Argentina were the only one of the eight quarter-finalists that failed to score 100 points in their opening four games.
Argentina have never beaten New Zealand. Granted, they came close in their last clash, but that was five years ago, in Argentina, and with arguably a stronger team - certainly a younger one.
The average age of the Pumas has been a concern for some time now and just how long they will be able to keep up with the pace at which the All Blacks play the game will ultimately determine the scoreline.
It'll be an emotional day for many members of the Argentina side as they play probably their last game for their country. An over abundance of emotion + a trouble-stirring front row = trouble?
Players to watch:
For New Zealand: An obvious choice here. Colin Slade has the biggest boots in world rugby to fill. Will he be up to the task? His back-line coach Wayne Smith said it best when he advised the 23-year-old not try imitate the great man, but to just be himself and back his own talent. Easier said than done with the world watching! Having an experienced head like Piri Weepu on his inside will certainly help. Slade has the skill set, we'll find out soon enough if he has the stomach for the big occasion.
For Argentina: In what is very likely to be his last game in the blue and white hoops, take your hat off for Mario Ledesma, one of the best hookers to have played the game, ever. Ledesma will equal the World Cup record for appearances by a hooker, playing his 18th match to draw level with former France stalwart Raphael Ibanez. At 38, Super Mario is a little past his prime but you couldn't ask for a bigger heart. After being the cornerstone of the Puma's immovable scrum for fifteen years, Ledesma will leave everything he has left on field on Sunday. Look out!
Head-to-head: Two true stars of the world game face-off as Ma'a Nonu and Felipe Contepomi do battle in midfield. Nonu made more clean breaks (13) than any other player in the pool stages and is sure test his opposite number's defence. But Contepomi has been around the block a few times and is a tough man to beat. Apart from playing an instrumental role in directing the Pumas' attack, he is their main source of points and needs just five points to overtake Puma great Hugo Porta as Argentina's all-time leading points-scorer.
Previous results:
2006: New Zealand won 25-19 in Buenos Aires
2004: New Zealand won 41-7 in Hamilton
2001: New Zealand won 24-20 in Buenos Aires
2001: New Zealand won 67-19 in Christchurch
1997: New Zealand won 62-10 in Hamilton
1997: New Zealand won 93-8 in Wellington
1991: New Zealand won 36-6 in Buenos Aires
1991: New Zealand won 28-14 in Buenos Aires
1989 New Zealand won 49-12 in Wellington
1989: New Zealand won 60 -9 in Dunedin
Prediction: This will be the second World Cup meeting between these sides: New Zealand won 46-15 in the pool stages of the 1987 tournament. Considering the massive progress Argentina have made since then, it's unlikely we'll see a similar margin but the result will stay the same. New Zealand by 20 points!
The teams:
New Zealand: 15 Mils Muliaina, 14 Cory Jane, 13 Conrad Smith, 12 Ma'a Nonu, 11 Sonny Bill Williams, 10 Colin Slade, 9 Piri Weepu, 8 Kieran Read, 7 Richie McCaw (c), 6 Jerome Kaino, 5 Brad Thorn, 4 Samuel Whitelock, 3 Owen Franks, 2 Keven Mealamu, 1 Tony Woodcock.
Replacements: 16 Andrew Hore, 17 Ben Franks, 18 Ali Williams, 19 Victor Vito, 20 Jimmy Cowan, 21 Aaron Cruden, 22 Isaia Toeava.
Argentina: 15 Martín Rodríguez, 14 Gonzalo Camacho, 13 Marcelo Bosch, 12 Felipe Contepomi (capt), 11 Horacio Agulla, 10 Santiago Fernández, 9 Nicolás Vergallo, 8 Leonardo Senatore, 7 Juan Manuel Leguizamón, 6 Julio Farias Cabello, 5 Patricio Albacete, 4 Manuel Carizza, 3 Juan Figallo, 2 Mario Ledesma, 1 Rodrigo Roncero.
Replacements: 16 Agustín Creevy, 17 Martín Scelzo, 18 Marcos Ayerza, 19 Alejandro Campos, 20 Alfredo Lalanne, 21 Lucas Gonzalez Amorosino, 22 Juan Jose Imhoff.
Date: Sunday, October 9
Venue: Eden Park, Auckland
Kick-off: 20.30 (07.30 GMT)
Weather: Dry but cloudy, Daytime Max 16°, evening low 10°C
Referee: Nigel Owens
Assistant referees: Jonathan Kaplan, George Clancy
Television match official: Shaun Veldsman
By Ross Hastie