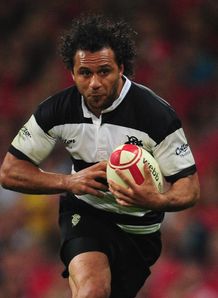 Related links
Teams
The Barbarians are set to return to Twickenham next season for an eagerly awaited clash with Fiji on November 30.
One of the most celebrated matches ever played by the Barbarians took place in 1970 when Fiji shocked the rugby world by beating a star-studded Barbarians team containing legendary names such as Edwards, Duckham, Bennett, Slattery and JPR Williams 29-9.
Now two of the most attack-orientated teams in the game are set for a rematch.
Speaking about the shared history of the two sides, Barbarians' president, Micky Steele-Bodger, said playing Fiji was always a great occasion.
"The Barbarians have always had a special affection for Fiji's rugby and its players," he explained.
"Last year Isa Nacewa and Akapusi Qera were very popular Baa-baas and wore our shirt with distinction.
"We look forward to players like them providing equally exciting opposition next November."
Fiji Rugby Union CEO Manasa Baravilala is excited that his country will get another opportunity to face the Baa-baas.
"2013 marks the centenary of the game in our country and we are honoured to be invited to celebrate this landmark with another game against the famous Barbarians.
"Our great victory 40-odd years ago was a major stepping stone in enhancing Fiji's profile. Our opponents then had some of the biggest names in the game but we had our own heroes that day like George Barley, Pio Tikoisuva, Jona Qoro and Isimeli Batibasaga, who became stars overnight.
"The challenge next November is to again showcase the best of Fijian rugby and there can be no better stage than a fixture against the Barbarians."