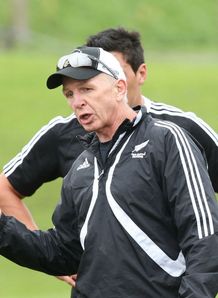 New Zealand Sevens coach Gordon Tietjens has named his squad to play in the HSBC Sevens World Series' opening round on the Gold Coast next weekend.
Tietjens, who has opted for a mix between youth and experience, is looking forward to
"We've been working hard in the camp this week to come up with the right mix for the Gold Coast and I think we have a great blend of experience and new blood in this team," he told New Zealand's One Sport.
"Make no mistake, this will be a tough tournament for us and we are certainly realistic about our prospects.
"The first outing of the series is always a time when you feel your way to an extent with new players and new combinations.
"But I know the guys have trained hard this week and even though some in the team are relatively new to sevens, I'm sure they'll play their hearts out as always when they pull on the black jersey next week."
Two players from the last HSBC Sevens World Series, Toby Arnold and Scott Curry, were not considered because of injury.
NZ Sevens squad: Tomasi Cama, Sam Dickson, DJ Forbes, Iopu Iopu, Mark Jackman, Warwick Lahmert, Tim Mikkelson, Kylem O'Donnell, Lote Raikabula, Belgium Tuatagaloa, Gareth Williams-Spiers, Jamie Verran.