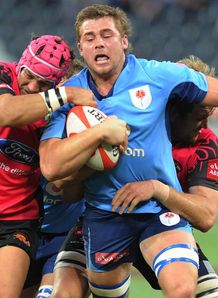 Blue Bulls head coach Pine Pienaar has named CJ Stander at number eight in a reshuffled loose trio for Friday's fixture with The Sharks.
With Jacques Potgieter being recalled to the Boks, Arno Botha moves from eight to seven in place of Potgieter, allowing Stander back in.
The rest of the side that overcame the Free State Cheetahs last weekend will again do duty, with Lionel Cronjč bracketed with Louis Fouchč at 10.
Warwick Tecklenburg comes onto the bench, while Willie du Plessis will be on standby, should he need to replace Cronjč.
Grant Hattingh has also being declared fit and will replace Cornell Hess on the bench while Bjorn Basson will be given another week to regain full fitness.
Blue Bulls: 15 Jürgen Visser, 14 Akona Ndungane, 13 JJ Engelbrecht, 12 Francois Venter, 11 Sampie Mastriet, 10 Louis Fouchč/Lionel Cronjč, 9 Jano Vermaak, 8 CJ Stander, 7 Arno Botha, 6 Dewald Potgieter (c), 5 Franco Mostert, 4 Wilhelm Steenkamp, 3 Werner Kruger, 2 Willie Wepener, 1 Mornč Mellett.
Replacements: 16 Bongo Mbonambi, 17 Frik Kirsten, 18 Grant Hattingh, 19 Warwick Tecklenburg, 20 Ruan Snyman, 21 Lionel Cronjč/Willie du Plessis, 22 Ulrich Beyers.
Date: Friday, September 28
Kick-off: 19:10 local (18:10 BST, 17:10 GMT)
Venue: Kings Park, Durban
Referee: tbc