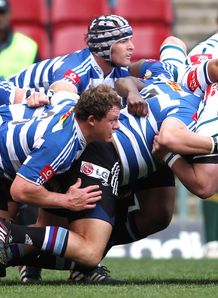 Western Province coach Allister Coetzee was relieved to get another win under the belt after his side thumped Griquas 45-21 in Cape Town on Saturday .
A free-running Province outfit, bouncing back from a defeat to the Sharks the week before, enjoyed a great dress rehearsal ahead of next week's clash against Currie Cup leaders the Golden Lions.
Province ran in six tries at Newlands in a performance that was spoiled only by numerous handling errors throughout the match.
"It was the sort of response that we were looking for after last week's defeat," said Coetzee.
"It was a great comeback and the players wore the jersey with pride today.
"We knew that Griquas were dangerous when you offer them width but we've noted our lapses when we let them in for their tries.
"It's something that we'll be working on because other teams will also try to exploit that weakness."
Coetzee said the team was in a rebuilding phase, with their sights set on next year's Super Rugby season.
"The youngsters are settling down well and they are playing with a fair amount of understanding of our game plan," he said.
"We are trying a few things in this competition which we want to take into Super Rugby next year."
Province skipper Deon Fourie said the key to their performance was sticking to their game plan when the temptation was to run the ball at every opportunity.
"In this game we placed huge emphasis on staying with our structures on defence and attack," Fourie said.
"It was a game where one could easily veer from the game plan but for most of the way the team remained focussed.
"The pressure we exerted created those intercept opportunities and we did well to exploit it when it was on.
"Our front row really put their hands up today, and although they are all still Under-21s, we don't see them as youngsters anymore."
Griquas entered the match on the back of a sequence of victories over the Lions, Bulls and Sharks, but they failed to cope with a Province side who were enterprising but compact on defence.
"It's something that we'll have to think about but there are times when you need to kick rather than run the ball," said Griquas coach Pote Human.
"The two interceptions which resulted in tries for Province were huge setbacks, and we never recovered.
"Province were physically better and took us on. It's going to be a real battle now to reach the semis.
"We'll have to do better at decision making, step up our physicality and improve our defence going forward.
"We are getting some players back for next week's derby against the Cheetahs and that's encouraging.
"For us it's all or nothing in the weeks ahead."