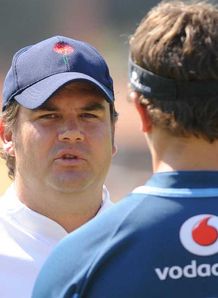 Blue Bulls coach Pine Pienaar is confident his side will bounce back from their recent dip in form and salvage their season.
The Pretoria outfit find themselves in an unusual position at the bottom of the Currie Cup table with four weeks left before the play-offs.
"It is not nice lying last on the log and it is not acceptable for us, but we are six points behind the third and fourth side currently," Pienaar said.
So far this season they have only managed two victories out of their six matches, but Pienaar believes they were just one victory away from turning things around.
The team will get that opportunity this weekend when they host the Free State Cheetahs, who are also in a desperate position - just one place above the Bulls in the standings.
"So we know this weekend is an important one for us, it is the same for the Cheetahs, they are in the same boat as us," explained Pienaar.
"We are one win away from getting that momentum back, but we know it is going to be a tough battle against the Cheetahs and we have to be spot-on over the weekend.
"We had soft moments in the last few games and against Griquas it was the first time we scored more than four tries."
The Bulls fell victim to Griquas in Kimberley last weekend in a match that saw a total of 83 points being scored between the two sides.
Pienaar said his charges' never-say-die attitude demonstrated that they had not raised the white flag.
"The guys fought back - at one stage we were 26-0 down and fought back to 29-22 with 30 minutes left in the game," he said.
"The commitment the guys showed there definitely shows their urgency to do well in the Currie Cup."