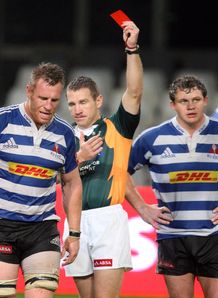 WP number eight Jebb Sinclair escaped without any punishment, while flank Tyrone Holmes received a one-week ban for punching.
The two players appeared before a Disciplinary Committee (DC) held at the SA Rugby Union (Saru) offices on Tuesday, having been red carded for ill-discipline in their team's Currie Cup loss to the Sharks on Saturday.
Judicial Officer Peter Ingwersen ruled that Sinclair was severely provoked in that he was struck five times by his opponent with an open hand before he retaliated.
The offence was classified as a 'low end contravention' which carries a two-week suspension as sanction, unless compelling on-field or off-field mitigating features were found.
The DC found such mitigating features existed in this case and the sending off was considered to be sufficient sanction.
Sinclair will therefore be available for WP's Currie Cup clash with Griquas in Cape Town on Saturday.
Meanwhile, Holmes was ruled to have been severely provoked but was never subjected to a physical attack as in the case of Sinclair.
Holmes's retaliation meant he was guilty of striking an opponent.
The offence was classified as a two-week sanction ban.
The player was provoked but not to the degree that it warranted his actions and the mitigating circumstances means Holmes was therefore suspended for one week, which rules him out of this weekend's action.