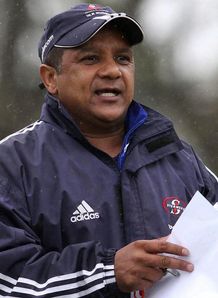 Western Province's Currie Cup hopes were dealt a blow when another player was ruled out for the rest of the season through injury.
The latest casualty is second-choice fly-half Kurt Coleman, who broke a bone in his jaw during last weekend's match against the Sharks in Durban.
"Kurt undergoes an operation on Wednesday and he's out for the rest of the year," said WP coach Allister Coetzee.
"He has a broken jaw bone and after the op he'll need eight weeks to recover, so his season is over.
"I just can't get myself to talk about injuries any more, there is no relief (from the injury crisis)."
Adding to WP's woes were the red cards handed to loose forwards Jebb Sinclair and Tyrone Holmes, who will appear before a disciplinary committee. They both threw punches and are likely to face match bans.
After they were sent off, WP suffered another setback when replacement lock Wilhelm van der Sluys was harshly yellow-carded by referee Lourens van der Merwe, and as a result the Cape side finished the match with 12 players.
"In the case of the two red cards it was a matter of emotional channelling in the wrong direction," said Coetzee.
"It is not the image (WP) we want to portray. You cannot play with 14 players, let alone 13 or 12 for that matter.
"These two players don't have a history (of foul play) and I hope that will count in their favour.
"However, there is always a first time. As a team it's a matter that we'll put behind us.
"Once we know the outcome of the hearing, we'll have our own internal hearing.
"In the case of the yellow card, the player will be given a (monetary) fine. Late in the match the scrums were farcical with Province only having five players to push against eight," added Coetzee.
"It could have resulted in injury to players."
WP are up against the high-riding Griquas next weekend, and Coetzee is preparing for the match without Sinclair and Holmes.
"I am prepared for the worst case scenario and I've invited several flankers to join our training sessions this week," said Coetzee.
"I've got Tertius Daniller, JJ Gagiano, JP Swanepoel, Yaya Hartzenberg and Justin Benn training with us this week for loose forward cover."
Of these players, the Cape Town-born Gagiano is the best-known, having played for the USA in the Rugby World Cup.
Coetzee said he was also considering playing hooker Deon Fourie at number eight this week.
Flank Rynhardt Elstadt (rib injury) is expected to start training again in two weeks' time and number eight Nick Koster will join the training session as from next Monday.