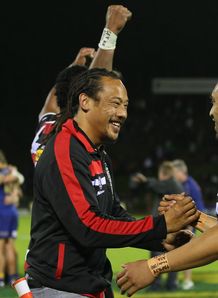 ITM Cup Championship-winning coach Tana Umaga has re-signed as the head coach of Counties Manukau for the next two years.
Last weekend Umaga took the talented young team to their first final win in nearly two decades and is looking to continue the good work he has started with the Steelers.
Umaga is happy to stay in South Auckland, having enjoyed his last three years in the province.
"It is important for me to foster home grown talent within the region, create a good team culture and a positive environment for our players to grow," he said.
"Our promotion to the first division is going to bring even more challenges for both me as coach and the team.
"We have all worked really hard this season and I am looking forward to working even harder next season so we can carry on delivering good on field results and continue to develop good young men off the field."