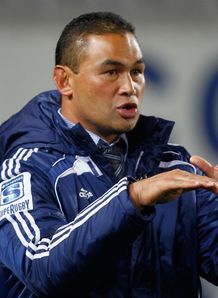 Related links
Teams
Also see
Connacht have confirmed that incoming coach Pat Lam will arrive in April to work alongside current Head Coach Eric Elwood for the remainder of the season.
The newly-appointed 44 year old will arrive in time to be involved with Connacht's final three games of the current campaign before he assumes full control as the new Head Coach on June 1st.
"Pat's early arrival will ensure that there is an opportunity for him to work alongside Eric and the coaching staff, get to know the players and facilitate an effective handover and transition," said Chief Executive Tom Sears.
"It will also mean that he can begin planning the crucial pre-season period and make the best possible start next season.
"Already Pat is being involved in discussions regarding player recruitment and planning for next season and beyond and we are making good progress on that front.
"It's important to note that Eric is fully supportive of Pat's early arrival and looking forward to working with him."
Pat Lam said: 'I'm delighted to be able to get to Connacht early, spend some time with Eric, the coaching staff and the players before the season finishes and start looking ahead to next season.'
Meanwhile, current coach Elwood was relieved to see his team finish on the right side of a tight result at the Sportsground as they beat Zebre 25-20 in their last Heineken Cup clash on Friday
Dan Parks pulled victory from the jaws of defeat as his penalty and late drop goal completed his match-winning 20-point tally.
"We got the victory which was important, but when we got the (big) lead we took the foot off the pedal and by doing so we gave them the opportunity to get back into the game and we let them run at us," said Elwood.
"However, the pleasing thing was that when they took the lead, we showed a lot of character in coming back to win the game.
"It's nice to say we won the game, winning ugly, but we finished the campaign on a high, and I will take that."
"When you want to score on nights like tonight, we have to earn the right to go wide. We went wide too early.
"If we have to win games, we have to earn them - it goes to the wire no matter who we are playing and we have no right to think we are that much better than anyone else. A case in point was tonight.
"In the first half Dan controlled the game, and in the second he made some uncharacteristic errors, but on nights like tonight it's important to have someone who can guide you around the park," added Elwood.
"More importantly, when he can hit those drop goals and long range penalties - that's what he is here for, and that's what he did tonight to close out a tight game."
Zebre may have missed out on gaining their first win of their debut season, but 15-point out-half Halangahu believes it will happen for the improving outfit.
"We can keep saying we are unlucky, but the reality is it keeps happening and you can only put that down to luck so many times," said the Australian.
"We are technically improving, but our mentality has to catch up so we can put teams away when we are in that position.
"The Heineken Cup is a new experience for me and a lot of the guys and that was crucial at times - the inexperience of our squad.
"The Heineken Cup is a great competition and to play so many good sides, the guys are a lot better for the experience.
"Hopefully the guys will stick together next year and learn from these experiences and put together a few wins."