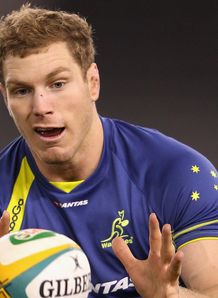 Related links
Teams
Australia openside flank David Pocock's move to the Brumbies will see him adding attacking flair to his strong defensive game.
That is the word from the Canberra outfit's forwards coach Laurie Fisher who is convinced the two-time champions can improve Pocock's skills.
"I think he can be very effective for us in terms of his carry and his ball play," Fisher told the Sydney Morning Herald.
"He's got a lot of skill and we've just got to provide the opportunity for him ... (attack) is a definite area he can improve and hopefully there's something I or other players in the team can provide David.
"If you look at the statistics of this year's Super Rugby, David would be the premier defensive number seven in the competition.
"But his attacking game is where we can make improvements and getting a good balance in his game."
Pocock has started training with the Brumbies although he is on limited duties while he is recovering from a knee injury sustained in Australia's opening Rugby Championship match with New Zealand.
The 24-year-old is excited about his move to Canberra and said he is not interested in replacing Ben Mowen as the Brumbies' skipper.
"The thing that was attractive here was the set-up ... it seems like there's a good training and playing ethic here,'' he said.
"The big thing is the coaching here ... I don't want to make any predictions but it's exciting.
"There's been no talk (about captaincy), that doesn't concern me one bit.
"For me it was deciding where was going to be best for my rugby going forward. And moving here gave me an opportunity to improve and challenge myself."