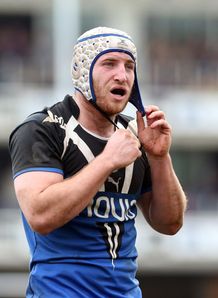 Related links
Teams
As the only deaf professional sportsman in England, Mat Gilbert faces a unique challenge in the Aviva Premiership - and he's not backing down.
The Bath man was diagnosed as being deaf when he was five and wears hearing aids in both ears when plays, masked by his scrum cap.
While many would perhaps look to cut Gilbert some slack due to his disability, the flanker isn't having any of such talk.
"I am who I am,' he told The Telegraph.
"I don't need to put my hand up and say, 'I've got a disability'. I can cope in this environment. I don't want the other lads to give me any consideration. I want them to think of me as one of them, really."
Gilbert joined Bath late last year and has turned out three times for Gary Gold's men, netting a try against West Country rivals Gloucester in the LV= Cup, and the 27-year-old admits he wouldn't want to be anywhere else.
"From the moment I started running around trying to be like Lawrence Dallaglio as a kid, it's where I always wanted to be," he said. "Now I'm here, I'm going to enjoy it.
"I do miss the odd thing," he admits.
"Generally I know the game plan and my role in it. Obviously there are times when that breaks down. But I've worked out how to survive. Maybe if you watch me in a game, you'll see me looking round more than others. Checking what's going on around me in case I missed it."
The former Scarlets man reveals that as a youngster he used to try to use his situation to his advantage - that was until he encountered referee Nigel Owens.
"I used to try it on with referees," he reveals cheekily. "I'd say to them before games: 'I'm deaf, please be aware if you're calling "hands off", I might not be able to hear you.' My thinking was, it might delay them, so that would give me a couple of seconds to handle.
"[Owens] basically said to me, 'Don't try that one on me, you're a professional you know the rules'. He was right, so I've not done it since."
Such is the character of the man that he is not afraid to make himself the butt of the odd joke.
"I tweeted about the other day about support at the Rec: noise at the end was deafening £evenforme'," he said.
"I can take the p--- out of myself, which I think allows the other boys to feel more comfortable. Honestly I've never found anyone treat me differently because of my deafness. Not to my knowledge. Or if they have I've turned a blind eye... If that's the right phrase."