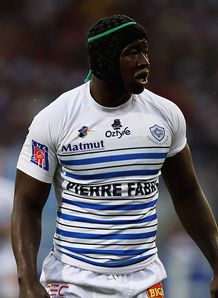 Castres Olympique forward Ibrahim Diarra has been suspended for eight weeks following an independent Disciplinary Hearing in Dublin.
Diarra was alleged to have stamped on the Glasgow Warriors prop, Moray Low during the second half of the match in contravention of Law 10.4(b).
The independent Judicial Officer, Christopher Quinlan, heard evidence and submissions from Diarra, who pleaded not guilty to the offence, and from the Castres Olympique Chief Executive, Patrick Alran. He also heard submissions from ERC Disciplinary Officer, Roger O'Connor.
The Judicial Officer upheld the complaint and found that Diarra had committed a deliberate stamp and had made contact with Low's head.
Employing the IRB sanctions for Law 10.4(b), he determined that the offence was at the high-end entry point of nine weeks. Taking into account Diarra's clean disciplinary record, he deducted one week, and imposed a suspension of eight weeks.
Diarra will be free to play on 11 February 2013. Both the player and ERC have the right to appeal the decision.