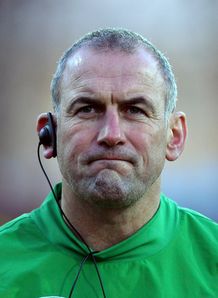 Related links
Teams
Connacht boss Eric Elwood admitted his side battled to cope with the tough playing conditions in Friday's 17-0 Heineken Cup loss at Biarritz.
The Irish province were full of confidence, after beating the Basque outfit 22-14 in Galway last week, but could not replicate that performance.
Heavy rain and an unforgiving pitch suited Biarritz's experienced pack and kickers of the calibre of Dimitri Yachvili and Damien Traille.
The French side were dominant with man-of-the-match Yachvili converting tries from Iain Balshaw and replacement Seremaia Burotu.
Elwood acknowledged that the conditions were worse than he expected.
"We had prepared all week and we knew the weather was going to be poor, but we didn't know it would deteriorate like that," he said.
"We knew it was going to be a huge challenge and the conditions did not suit us, but we were in a good space. However, unfortunately if you make mistakes at this level, you get punished."
Elwood explained that it was difficult to establish field position and that Connacht's kicking game was poor, with Dan Parks struggling to exert much influence.
"When you are playing in conditions like that, it's nearly a disadvantage to have the ball," he said.
"Our kicking game was not at its best today and we got severely punished.
"We couldn't get the yardage in our kicks and we struggled in that area today. It was disappointing that in the kicking battle we lost out today."
Despite the defeat, Elwood said there was still satisfaction in his side having beaten the Top 14 campaigners in Galway, if not in Biarritz.
"We take a lot of satisfaction from last weekend's win," he added.
"We were looking forward to playing on a nice dry track, it would have been nice, but they are a big team and we are not the biggest.
"It's not our style of play to play into that, and when you have to go toe to toe with the heavyweights, it can be difficult on nights like tonight."
Balshaw revealed that his side had concentrated all week on cutting down the error count in an effort to make up last weekend's shock defeat to Connacht.
"We improved dramatically from last week," he said.
"It was going to be difficult for both teams in the conditions, but last week we made 32 turnovers and in this competition when you make that many turnovers, it will cost you.
"This week we focused on cutting individual errors out and concentrating on our basics, and we did that tonight. We put a lot of pressure on Connacht, cut down on errors and we came away with the win.
"We handled (the weather) a little better tonight, just like last week Connacht handled the game a lot better than us."