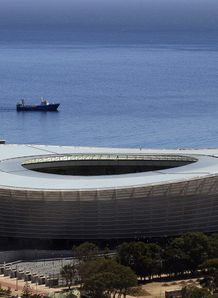 Related links
Teams
Also see
Edinburgh have rejected a proposal by Saracens to play their Heineken Cup Round Six clash in South Africa.
Edinburgh managing director Craig Docherty said the plan to move the fixture, scheduled for January 20, to the 55,000 seater Cape Town Stadium was not "commercially compelling".
Sarries have already successfully moved one Heineken Cup fixture abroad this season: they will host Racing Metro in Brussels next week.
Saracens' official fixture list currently has the Edinburgh game down to be played at Vicarage Road, their last game in Watford before moving to Allianz Park in Hendon.
"As a club, our commitment is to our fans and other key stakeholders, such as sponsors, and fundamentally our goal is to qualify from what is a very challenging Heineken Cup pool," said Docherty.
"Following Edinburgh Rugby to South Africa is simply not an option for the vast majority whose support was so crucial to our journey to last season's semi-final.
"I am sure they will be desperate to support us in what could be a critical pool game.
"The case made by Saracens was not commercially compelling and, from a performance perspective, would have had a detrimental effect on our preparation for - and recovery from - this match.
"Edinburgh Rugby are open to new and innovative ideas, but the prospect of playing our final pool game in the southern hemisphere was simply not an option that we could seriously consider from a number of different perspectives.
Saracens chief executive Ed Griffith told Daily Telegraph that he would have expected a "crowd of 50,000 in Cape Town."
"It would have been a one-off. It would have made rugby history and I think it would have been a huge event for the players, the supporters, everybody," said Griffith.
"It's probably going to be very cold and miserable in Europe then. But people could have turned on to see this game played in the evening sunlight and balmy temperatures, and probably a great game of rugby. It would have been fantastic for Saracens and for Edinburgh and for European rugby, so it's disappointing that it can't take place."