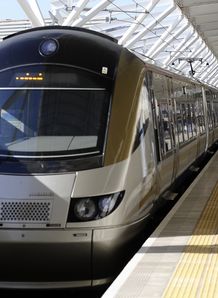 Related links
Teams
The Wallabies have limped off to Argentina so it's time for a showdown between the Rugby Championship winners and their arch-rivals in South Africa.
Planet Rugby's Ross Hastie returned to the Highveld - where speed is important, size counts, but experience matters most - to give you a view from the inside.
Day 10 - All Blacks step it up a Gear
Gauteng - Africa's economic hub - has had a major facelift over the last four years, due largely to the 2010 World Cup (the round ball version). Apart from the new stadiums, like the venue for Saturday's Test, the highways are massive and the Gautrain - which links Johannesburg, Pretoria and the international airport - has revolutionised the way people get around.
I had the pleasure of taking this high-speed train to the All Blacks team announcement in Sandton on Thursday where, in sync with the local infrastructure, speed and size were the main themes.
There are two changes to the starting team that won in Argentina last week, as Hosea Gear gets a chance to use his jet shoes out wide while two-metre tall Brodie Retallick comes into the second-row.
After the NZ wings touched down no less than five times last week, Gear has a tough act to follow (he replaces Julian Savea, who bagged two tries in La Plata).
Head Coach Steve Hansen has challenged Gear to "to step in and step up," which can be interpreted as an allusion to his workrate, which has sometimes left a little to be desired. Hansen added that Savea's exclusion has more to do with rotation than form.
"We are very happy with how Julian is going and it's not a reflection on him, just the need for a young player to step out of the pressure," said Hansen.
Gear lost his place in the regular side in similar fashion, but admitted that while he had done nothing wrong to serve getting axed, he didn't really do anything special to make himself a first-choice selection. This weekend, on a hard, dry track, Gear has a chance to impress against one of the best in the business, Bryan Habana.
Retallick's promotion to the starting XV ahead of Luke Luke Romano was forced by the latter's banged-up face following a grueling clash with the Pumas.
"Luke Romano was pretty beat-up," said Hansen.
"He's got three different sites for stitches on his face. It allows him to stay out of training. We don't want to lose intensity at training so Brodie gets a start and Luke will come on late in the game."
At 2.04m and 121kg Retallick is no small customer but he had laugh with the gathered journos about how, for once, he WON'T be the biggest guy on the field. Andries Bekker is a full 4cm taller!
While the changes to the visitors' side will add speed and size, it's the experience of the rest of the team that could prove more significant.
Indeed, this team boasts six of the all-time most capped All Blacks by position - prop Tony Woodcock, hooker Keven Mealamu, flank Richie McCaw, fly-half Dan Carter, inside centre Ma'a Nonu and outside centre Conrad Smith.
In a Test of this magnitude, in front of a big crowd expected on Saturday, you can't put a price on experience. No less than eight players in the squad have more than 60 caps - McCaw (111), Mealamu (98), Woodcock (90), Carter (90), Nonu (71), Hore (70), Piri Weepu (64), Smith (61).
In stark contrast, the hosts will field only three players who have more than 50 caps: Habana, Jean de Villiers and Ruan Pienaar.
And if anyone thought complacency might be an issue, Kieran Read made it clear that the Kiwis were as hungry as ever, going so far as to suggest that this Test would define their first season since winning their second World Cup.
"We have achieved a lot this year but we feel if we lose on Saturday a lot of the progress we have been making will have gone to waste and it will all amount to nothing," said Read, who added that Thursday's training session would have physical dimension to it to help psyche them up.
"We only flew in a few days ago and we played a hard Test last week but we do need to create some kind of edge. Ahead of a game like this it is good to put your body through a bit of hurt during the process of getting yourself mentally ready," he said.
Boks, beware!
Look out for Planet Rugby's exclusive, in-depth interview with Heyneke Meyer next week
Day 9 - Who will get burnt on Saturday?
Day 8 - Even the World Champs are still learning
Day 7 - When Lions add green to their gold
Day 6 - The truth lies between the lines
Day 5 - Springboks rule at Loftus
Day 4 - When your friend is your enemy and your enemies are friendly
Day 3 - Quade Cooper: The Kevin Pietersen of rugby
Day 2 - Reconciliation at the Casino?