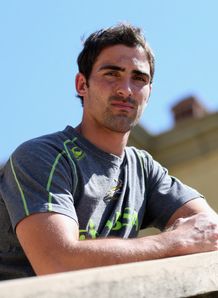 Related links
Teams
The Wallabies have limped off to Argentina so it's time for a showdown between the Rugby Championship winners and their arch-rivals in South Africa.
Planet Rugby's Ross Hastie returned to the Highveld - where the Springboks want to turn the heat up on the All Blacks - to give you a view from the inside.
Day 9 - Who will get burnt on Saturday?
With the All Blacks enjoying a day off on Wednesday, there was a healthy turnout for the Springboks' team announcement which, in the scorching heat of a typical Highveld afternoon, was held poolside at their posh hotel.
As expected, there were no headline-grabbing changes to report. In fact, Heyneke Meyer was able to name his first unchanged starting XV since taking over one of the most difficult jobs in the game.
Meyer has gone to great lengths over the last few months to remind us that this is a very new team and will need time to gel. Last week's performance at Loftus suggested that the grand plan is finally starting to come together and being able to pick a settled side for the biggest game of his tenure will certainly be a massive boost for the Bok coach.
Playing the best team in the world on home soil - and HM has stressed the significance of playing at home before - will be the ultimate test of how far this team has come.
Considering the injury turmoil that has struck the Wallabies, the fact that Meyer has his whole squad - including Coenie Oosthuizen - at his disposal is significant.
While Ian Foster jokingly said on Tuesday that he wouldn't reveal what the All Blacks were doing differently to keep their players fit, the truth is the 'secret' is not a grand mystery.
New Zealand have centrally contracted players and coaches across all the Super Rugby teams, which means they are able to manage their players far better than their Aussie and Saffa counterparts.
Dan Carter returned last week looking refreshed and dangerous. Richie McCaw will take a break next year that would never have been possible in South Africa.
You could not ask for a better example of the pitfalls of an overworked player than Morne Steyn, who Meyer is forced to keep in the Bok camp because releasing him will almost certainly mean he is exposed to the pressure of trying to save the Blue Bulls from Currie Cup disaster. Jean de Villiers has come in for a fair amount of stick too, but it's a miracle the Bok skipper can even play this weekend - the man is knackered from being in the front line for the Stormers week in and week out since February.
In stark contrast, you have the likes of Francois Louw (fresh from pre-season training with Bath) and Duane Vermeulen, whose injury during Super Rugby has turned out to be a blessing in disguise for South Africa.
Good news for Bok fans is that Johan Goosen started kicking again on Wednesday as the hosts look to plug the hole in their tee through which no less than 40 points have leaked over the course of the Rugby Championship. A final call on who will do the place kicking on Saturday has yet to be made.
"Ruan (Pienaar) has been striking the ball really well in practice, but then again he was kicking well last week too," said Meyer, who admitted he is "worried" about his kickers.
"I think what you have to consider is that last week Ruan took over the goalkicking role, it was not something he was expected to be entrusted with when he ran onto the field. So if he has to start as the kicker maybe it will go better, but the first choice is Johan.
"The All Blacks are a great defensive side, as you can see from the fact that in two games this season they have not allowed their opponents to get off nil. They give very few tries away, and we know that to beat them we cannot do it just by scoring tries, we are going to have to get our kicks over as well."
While the journos gathered at the press conference baked in the blazing sun, a far cry from the kind of temperatures the Kiwi visitors would be used, Meyer joked that he would have preferred the game to start at 15h00 not 17h00 (late afternoon temperatures drop off very rapidly on the Highveld). But irrespective of the kick-off time, with the All Blacks in red-hot form and the Boks gathering momentum, Saturday's game should be a screamer.
Look out for Planet Rugby's exclusive, in-depth interview with Heyneke Meyer next week
Day 8 - Even the World Champs are still learning
Day 7 - When Lions add green to their gold
Day 6 - The truth lies between the lines
Day 5 - Springboks rule at Loftus
Day 4 - When your friend is your enemy and your enemies are friendly
Day 3 - Quade Cooper: The Kevin Pietersen of rugby
Day 2 - Reconciliation at the Casino?