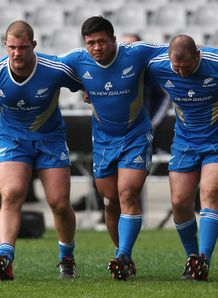 Related links
Teams
Also see
Hooker Keven Mealamu says taking on the Pumas pack on Argentine soil is the biggest challenge the All Blacks will face this year.
The Rugby Championship newcomers gave New Zealand a rough ride for 60 minutes in Wellington a fortnight ago and Mealamu reckons facing a fired-up set of Pumas forwards is one of the most difficult tasks in world rugby.
"For us I think it's right up there as a forward pack," he told reporters in Buenos Aires.
"Argentina have really set the bench mark so for us to be able to play them at home, it's the biggest challenge we'll face this year definitely."
Mealamu was among the senior squad members given the night off when the All Blacks were given a mighty scare at Velez Sarsfield Stadium in 2006 as they held on for a 25-19 win under intense pressure.
"I can remember the game quite vividly, hearing the chanting of the crowd was amazing," Mealamu recalled.
"In Argentina it's like they grow another leg, they're so much more confident at home and their passion goes to another level when they're playing on front of their own people. I remember seeing that intensity for pretty much the whole game."
The 96-Test veteran's name has been thrown into the hat as a likely successor to Richie McCaw when the All Blacks skipper takes a six-month sabbatical next year.
Although Mealamu stressed there are a number of possible leaders in the team, he would be thrilled to have another chance to captain the side.
"If that's what the All Blacks need then I'll definitely put my hand up and want to do a good job as well," said Mealamu.
"Skip's (McCaw) been a big part of how this team functions and it's a successful way as well so I don't think much will change."
"There's a lot of experience in our team and there's a few guys that can definitely step up and some good leaders in the team that could do the job.
"It's a tough gig. I think we're very lucky to have such a good platform, that we can go out and play well and still lead the team at the same time.
"It's something that you'll always cherish and probably one of the toughest jobs that you could do out there."