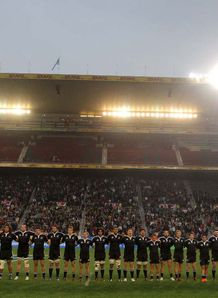 Related links
Teams
The All Blacks have announced that South African police have closed their investigation into an allegation made against U20 player Nathan Harris.
South African authorities have advised the NZRU and front-row Harris that after investigating the complaint, they will not be prosecuting.
"I am obviously pleased and relieved I have been cleared," Harris told AllBlacks.com.
"The past three months has been an incredibly difficult time for me and my family and now I want to put this matter behind me.
"I want to thank my family, friends and rugby community for supporting me during this time.
"I am disappointed that my special experience with the New Zealand U20 was marred by this allegation. My focus is now on getting on with playing rugby and I'll be working hard to prove that I can be a good asset for any team I am lucky enough to be involved in."
NZRU General Manager Professional Rugby Neil Sorensen explained the NZRU was pleased that the South African authorities had now closed this matter.
"Nathan has already publicly acknowledged that he breached team rules when he allowed a woman to come back to his room after the Final of the Junior World Cup in South Africa in June," he said.
"We consider Nathan's actions in breaching the team rules to be misconduct, and after considering all the circumstances we have decided that the matter will be recorded as a warning on his file.
"We now consider the chapter closed."