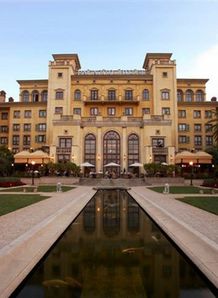 Related links
Teams
The Wallabies and All Blacks visit Pretoria and Johannesburg in a fortnight of rugby that could prove pivotal for the direction the Springboks take over the next four years.
Planet Rugby's Ross Hastie returned to the Highveld, where the roads are like Springbok forwards - they're wide and run straight for miles - to give you a view from the inside.
Day 2 - Reconciliation at the Casino?
As expected, Wednesday's press conference at Montecasino (that great monument to kitsch), revolved around the two Steyns: Morne is out and Frans is semi-crocked.
After coming under heavy fire for weeks, Heyneke Meyer's team announcement - and the honesty with which it was delivered - will have gone a long way to reconciling him with the South African public.
Of course, the continued goodwill of the rugby faithful in the Republic will depend entirely on Saturday's result in Pretoria but HM showed real courage in taking the big decision that almost everyone was calling for.
Make no mistake, leaving Morne Steyn out of any team for a game at Loftus Versfeld is a massive call. But few will dispute that it was the right one.
It's clear that Meyer reads the press and is not immune to the pressures that come with his job. I'm not saying that public opinion dictated this week's selections - far from it - but a few choice quotes at the press conference were clearly aimed at appeasing the masses.
"There are more Western Province players in the starting XV than Bulls," said Meyer with a wry smile.
Duly noted.
"I want guys to go out there and express themselves," he added later, stressing that the game plan hadn't changed but that Johan Goosen brings a new set of skills to the table.
It was also notable that there was a friendly atmosphere in the room, in stark contrast to certain periods of the Peter de Villiers era, when unwelcome questions were sometimes met with hostility.
Indeed, Meyer's success as a coach has stemmed largely from the fact that he's a genuine 'people person'. He went to extraordinary, ultimately comical lengths to soften the blow of Steyn's axing.
When the start of one journo's question included the phrase "you dropped Morne", he was cut short by the Bok mentor, whose best intentions to defend his long-time protege ended up backfiring.
"I want to stress, I didn't 'drop' Morne...(uncomfortable silence in the room) ...but...er...you're probably right to say it like that..." (Cue good sympathetic laughter from all.)
With all the focus on Morne Steyn, the inclusion of Jaco Taute in the matchday squad - and possibly even the starting XV if Frans Steyn isn't fit to play, which seems likely - got limited attention.
It's another bold step but it will greeted positively from most corners, barring the Western Cape where fans of Juan de Jongh must be feeling somewhat aggrieved.
We'll never know just how much the public pressure to give exciting youngsters a chance influenced Meyer's thinking - consciously or otherwise - but certain criticisms of the Bok staff's supposedly rigid thinking were perhaps unfounded.
Fans and pundits alike are in a fortunate position of being able to change our minds next week and start throwing mud again...don't we just love it?