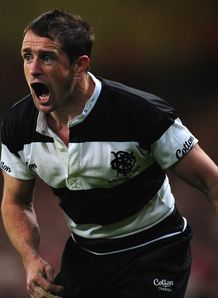 Related links
Teams
Also see
Welsh flyer Shane Williams has agreed to extend his career by another year after signing a new deal with Japanese outfit Dynoboars.
The 36-year-old called time on his nearly decade long association with the Osperys last year and was set to join the region's backroom staff before choosing to take up a one-year deal with Dynoboars.
While Williams' spell in the Top League was due to be a single-season affair, the winger has decided to stay on for another season.
"I've decided to go back for another season," Williams told Rugby Nation radio show. "I'm enjoying the other side of it as well - I'm doing a bit of coaching out there.. when they actually do listen to what I've got to say!
"I'm managing to keep up with the guys, the body's feeling really good at the moment and I'm looking forward to going back. The Japanese work culture is just amazing, they can keep going and going and it's the same on the field. I'm chasing shadows half the time they're so fit - that's one of the things that's tough out there..but having said that, I'm bigger than half of them so I can physically dominate them as well."