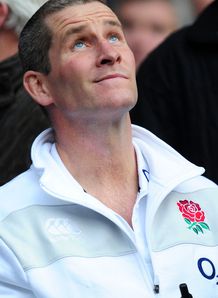 Related links
Teams
Also see
England coach Stuart Lancaster stated that he was "very proud" of his players after their stunning victory over New Zealand at Twickenham.
Brad Barritt, Chris Ashton and Manu Tuilagi all touched down in the second half to give England a resounding 38-21 win over the world champions.
"I'm a very proud England coach tonight," said Lancaster.
"The performance was exactly what we hoped for and to do it against a world-class team is great.
"I'm chuffed for the players - they are the ones who have put the hard work in and that self-belief will serve us well for the future.
"We've tried in instil a no-fear mentality - sometimes it comes off and sometimes it doesn't, but to build that 15-0 lead today was excellent. Half-time we were composed but the All Blacks are a championship team and came back strong.
"Our defence was outstanding. We forced them into errors and not many teams do that."
"Chris [Robshaw] said that when we turn up to the Six Nations we want to be playing at this level.
"It's brilliant to get this result today but we have to back up our performances. That's our next step, but we'll enjoy the moment also."
Defence coach Andy Farrell praised England's young squad for coping with the criticism sent their way over the last couple of weeks.
"When you get a young group together we always talk about the journey, but this young group have taken a lot of pressure and been fearless," said Farrell.
"In the SIx Nations there was nothing to lose and now you're up against the best teams in the world and taking a bit of stick and having to deal with pressure.
"Today they turned that pressure into a performance that everyone in the country will be proud of."