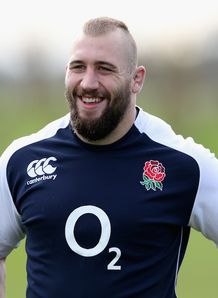 Related links
Teams
Joe Marler admits there is no room for excuses as he prepares to start for England in the November Internationals.
The Harlequins prop capped a fine domestic season by winning his first three starts for his country against South Africa in June, but now admits that the next challenge of establishing himself at international level starts this month.
"I haven't got the excuse of being the uncapped guy in the squad and not knowing what to do," Marler told The Rugby Paper.
"November will be tough and another step up with all three Southern Hemisphere sides and Fiji who have some big boys in there as well, so I'll look forward to that.
"No one can use that excuse of not knowing international rugby anymore because the majority have been capped.
"We've had our honeymoon period, we worked really hard in June but we were a relatively new squad. We had done pretty well in the Six Nations, worked hard for each other and the culture changed and we did the same in South Africa.
"They outclassed us. Going over there and winning is a hard thing to do but now they come over here so this is our chance to establish ourselves as a better team.
"It was great in South Africa. I really enjoyed it. It was a great learning experience and a great country.
"I was buzzing to achieve a dream I've had for a while. I'm looking to kick on now, there is plenty of competition and there are plenty of England games between now and the next World Cup and I want to play in as many of those as I can."
"I'm still relatively fresh, I've only got three caps so I can't be piping up left, right and centre. But I'm more comfortable. It's a good environment. Not necessarily a comfortable environment but an open one where everyone can be themselves and enjoy being there.
"I won't be putting my head above the parapet too much. Everyone is an individual and they need to be allowed to express themselves.
"The coaches were pretty disappointed not to get a win over there, particularly the drawn third Test. But there were some massive positives to take from it all.
"Being a relatively new squad, to take those experiences as an individual and a team we have to look forward to November and bringing them back to Twickenham and getting the fans behind us and get some wins."