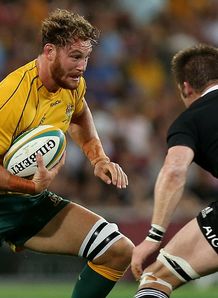 Related links
Teams
Wallabies flanker Scott Higginbotham doesn't regret his attack on All Blacks captain Richie McCaw but admits he learnt his lesson from the incident.
Higginbotham, who kneed and headbutted McCaw in last month's drawn Test between the trans-Tasman rivals in Brisbane, said he was upset as the incident initially cost him a place on the Wallabies' Europe rugby tour.
He was given a two-match suspension but was called up for Australia's final two games against Italy and Wales as a replacement for lock Rob Simmons who received an eight-week ban for a dangerous tackle during the loss to France.
"I was obviously pretty filthy that I wasn't coming on tour," Higginbotham told AAP.
"I don't regret anything I did. It's just football, I suppose."
But the suspension taught him about pushing the boundaries in the game.
"It really did point out where you can get to and where to draw the line," he admitted.
"It's a physical game but I suppose it (the ban) taught me that that stuff, the off the ball stuff, you can leave out of it I guess."
He said he felt for Simmons, and admitted that he was surprised that he received such a hefty suspension.
"I obviously watched the game and seeing what Simmo had done I honestly thought he'd get a slap on the wrist, maybe a game," expalined Higginbotham.
"Simmo and I are close friends. We've sat next to each other on the bus for about three years, so it's strange how it just had to be him who gets in trouble."