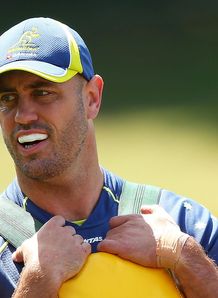 Related links
Teams
Wallabies skipper Nathan Sharpe says his team-mates are determined to do Australia proud on their four-match tour of Europe.
The tourists tackle France, England, Italy and Wales over the next four weeks and the veteran lock is excited to be going on one final trip before retiring from the game.
"It is a good opportunity for the guys to get away with each other," Sharpe told Sportal.
"We are used to touring for long periods with Super Rugby or even Test matches within the Rugby Championship we play and travel and play and travel.
"It may be an extra week on tour but I know the guys are keen to get up there and do the country proud."
Sharpe, who was awarded his second John Eales Medal last week, is also relishing the chance of playing England one last time at Twickenham.
The 34-year-old is the only member of the current Wallabies squad who was part of Australia's losing team in the 2003 World Cup final in Sydney.
The Wallabies' previous meeting with England also ended in defeat (35-18), and Sharpe is looking to turn the tables on November 17.
"They will obviously be keen to replicate that again against us but for us it is a great rivalry with England and I know all the guys will be looking forward to that game once we have played France," said Sharpe.
"It (Twickenham) is a tremendous stadium and regardless of the result it is a great rugby atmosphere.
"It is one of the destinations in the world that you want to play rugby at."
Sharpe also feels the return of injured trio Berrick Barnes (utility back), David Pocock (flank) and Stephen Moore (hooker) will be a massive boost for the squad who have had their fair share of injuries of late.
"The guys that are coming back with some experience, Berrick (Barnes), Stephen Moore and David Pocock, it is fantastic to have those guys back," he said.
"What has happened is that guys have come in and done a great job in keeping the team going along and it only adds to that.
"The more experience and more exposure players can get at this level the better it is for Australian rugby and hopefully we will see that on this trip."