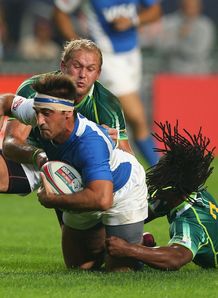 England and South Africa both suffered heavy defeats on Day One of the Hong Kong leg of the IRB World Series on Friday.
There were no such problems for New Zealand against France, whilst Portugal squeezed past Scotland in a classic.
Here's all of the action from Day One in Hong Kong!
Pool A
(Argentina, Wales, Australia, South Africa)
Results:
Argentina 21-0 South Africa
Wales 19-14 Australia
Argentina defeated South Africa 21-0 in the last game on Day One. Juan Ignacio Brex scored a try in the dying seconds to round off an impressive display by the Pumas over the Las Vegas champions - who were shockingly lethargic.
Paul Treu's side came into this tournament after an impressive victory against New Zealand in the Las Vegas final, but were unable to stop Los Pumas' captain Nicolas Bruzzone scoring two tries and now face matches with Australia and Wales on day two.
Wales defeated Australia 19-14, despite two tries from Lewis Holland for Michael O'Connor's side.
Pool B
(New Zealand, Kenya, USA, France)
Results:
New Zealand 33-12 France
Kenya 17-14 USA
Current Series leaders New Zealand, last year's runners-up, beat France 33-12 in Pool B, while Dennis Ombachi scored twice for Kenya to record a 17-14 victory against USA.
Pool C
(Samoa, Portugal, Scotland, England)
Results:
Samoa 28-7 England
Scotland 21-27 Portugal
In one of the most entertaining matches of the day, Duarte Moreira scored four tries for Portugal as they dramatically beat Scotland 27-21 in Pool C.
With Scotland leading 21-20 thanks to two tries from Andrew Turnbull, Moreira dotted down in the corner to secure victory, before England were undone by an impressive Samoan performance in a 28-7 defeat.
Pool D
(Fiji, Canada, Spain, Hong Kong)
Results:
Canada 31-7 Spain
Fiji 36-0 Hong Kong
On an enthralling day of action defending champions Fiji proved too strong for hosts Hong Kong.
Two tries each from Ilai Tinai, Benito Masilevu and Samisoni Viriviri assisted in the 36-0 victory for the islanders, who are currently fourth in the overall standings on the World Series.
Canada, who secured their place as a core team at last year's Hong Kong Sevens, impressively beat Spain 31-7 thanks to two tries from Taylor Paris.
With thanks to the IRB