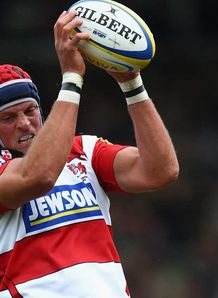 Related links
Teams
Alex Brown, Gloucester Rugby's second row forward for nearly a decade, has sadly announced his retirement from professional rugby.
Brown sustained a serious shoulder injury while captaining the team during the opening game of the season against Northampton.
After nearly 3 months of rest and concentrated rehabilitation, it was evident that the nerve damage to his shoulder was significantly more serious than initially thought, and he underwent complex surgery in November to ascertain the severity of the injury in the hope that it would repair the damage.
Following the intense operation however, Brown was told by physicians that, although the nerve-transfer would, in time, deliver an improvement of movement in day-to-day life, he would no longer be able to play professional rugby and must retire with immediate effect.
"It's stating the obvious but I'm totally gutted. I was so looking forward to this season and beyond," said Brown to the club's website.
"When the surgeon came in after the operation and told me that I would not be able to play rugby again, the news hit me hard and has been tough to deal with, especially as there has been a new dawn at Gloucester Rugby under Nigel Davies and I so wanted to be part of it.
"I genuinely thought that I had a few good years left in me but it's not to be. I've had to take on board the advice I have received and what my body is telling me.
"I've been incredibly lucky to spend so many years playing in the top flight, firstly with my home town team, Bristol, and then to play for so many memorable years at Gloucester.
"I've made so many friends through playing rugby and have amassed a lifetime's worth of memories.
"Kingsholm has really become a 'home from home' to me, the passion showed by everyone at the club makes it such a special place, a place that will stay with me for the rest of my life."
Alex joined Gloucester Rugby from Bristol Shoguns ahead of the 2003-4 season.
He has made a total of 227 Premiership appearances, which currently puts him in 6th place on the list of 'Appearances Made' since Premiership rugby began.
His England debut was against Australia in Sydney in 2006 and he gained his 2nd and 3rd caps on the tour to South Africa a year later in 2007.