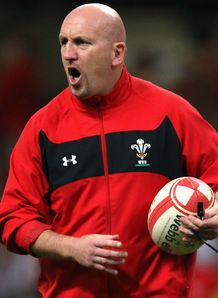 Related links
Teams
London Irish boss Brian Smith has backed defence coach Shaun Edwards, despite his snub for next year's Lions tour.
Irish sit in 11th place in the Aviva Premiership table with the worst defensive record in the league, having shipped 291 points after 10 matches, but Smith is still certain that Edwards is the right man to lead the Exiles to survival.
"I am backing Shaun Edwards 100 percent, he's the best defence coach I have worked with," Smith told the BBC.
"I could not speak more highly of him. It's a challenging time but Shaun is not missing the tackles.
"In terms of the performance of the club the buck stops with me.
"At the end of the day I have put together the coaching staff, I have put together some of the playing staff.
"But ultimately I am responsible for the programme and Shaun Edwards' track record speaks for itself and [he] is a world class coach.
"The boys love him here. He delivered an outstanding session today [Tuesday] and winning speaks in team meetings and you could hear a pin drop.
"There is a massive amount of respect for him but he is a very intense man and proud man and I am sticking with the crew I've got.
"Loyalty is a massive part of the game and if the club wants to get loyalty then it needs to show loyalty."