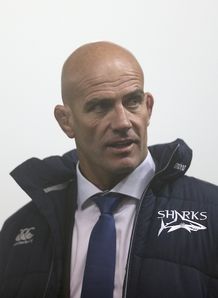 Related links
Teams
Sale Sharks new coach John Mitchell is aiming to find the Sharks' winning formula after a dismal start to the season.
Mitchell returned to Sale last week after settling a legal dispute with the Lions in South Africa, only to watch his side lose another crucial Premiership fixture against Northampton on Friday.
With French juggernaut Toulon visiting the Salford City Stadium this weekend, matters will not get any easier for the Sharks, but Mitchell is eager to find his best side and help Sale survive an upcoming relegation battle.
"In terms of how long before it becomes a John Mitchell team, I'd certainly like to think we'd get some traction within three to four weeks," he told the Manchester Evening News.
"It's a catch 22 situation - I'm very development focused and always have been in my coaching but right now it's about results.
"We've just got to work our way out of this. It's not about being mindless, it's about getting knowledge and finding a group that's prepared to deliver.
"We're working with what we've got and one can't be Father Christmas, so you've got to get the best out of the individual and the group and maximise that.
"I'm only interested in the team getting better and showing more enthusiasm and energy and, if the individuals are enhanced as a result of the team performance, then that's great. The form has been the issue and I think so far it's been more about what's best for the individual rather than the team and I'd like to change that equation."
Mitchell has stated that he will use all of his previous coaching experience to improve Sale's current form, having guided the Golden Lions from similar circumstances to Currie Cup success in 2011.
"I've built a new club over at Western Force in Australia which was a different challenge but the Golden Lions were in a very similar situation to Sale - probably worse in fact, in terms of knowing how to win and what to do. Certainly, it wasn't a very positive environment," added Mitchell.
"So I've got the experience of the situation, I've been in this scenario before and though it's not something I'm afraid of, equally its not going to be easy.
"This is basically a job for now - my job is to keep us in the Premiership."