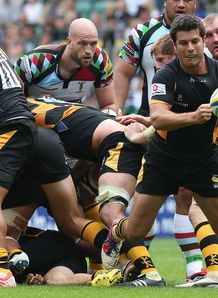 Related links
Teams
London Wasps have announced the appointment of Nick Eastwood as the Aviva Premiership club's new Chief Executive Officer (CEO).
Eastwood, a former Finance Director at the RFU for over a decade, takes over from interim CEO David Thorne, who has been in an acting position since the announcement of a club takeover in recent months.
Eastwood joins London Wasps on the back of a hugely successful 12-year spell with the RFU, helping to grow the RFU's net worth from £35m to £180m and profits from a loss of £5m to profit of £15m and playing a key role in steering the governing body through an economic downturn.
Prior to his role with the RFU, the ICAEW-qualified accountant spent five years with The Body Shop International PLC as its Global Head of Corporate Services, and has previously held senior management roles at Lifetime Corporation USA and at then powerhouse accounting firm Arthur Andersen.
Eastwood joins Wasps later this week and will work closely with Thorne on a handover basis in the coming weeks, placing priority on continuing to stabilise the club's finances.
"We are thrilled to have secured the services of someone of Nick's calibre," said London Wasps chairman Mark Rigby.
"This is an important piece of the jigsaw at London Wasps as we seek to re-establish the club financially and grow our business.
"I have sat across the table from Nick many times as an adversary in working with various RFU and Premiership Rugby Boards and I have always been hugely impressed with him. He will bring a wide ranging skillset to London Wasps and will become, I believe, a powerful driving force behind revitalising this great club.
"I am immensely honoured and excited to be joining such a great club and I look forward to working with everyone at London Wasps on the challenge of returning the club to its rightful place as a leading force in world rugby," said Eastwood.