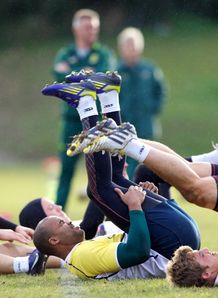 Related links
Teams
The Springboks were unable to train with a full squad on Wednesday but are hoping to have a fit starting XV for Saturday's Test against England at Twickenham.
A long season has taken its toll on many teams and Springbok coach Heyneke Meyer has admitted "very few players are 100 percent" heading into South Africa's final Test of the year.
SA Players' Player of the Year JP Pietersen has been an injury doubt all week and will face a late fitness test along with loosehead prop Gurthro Steenkamp. Both were named in an unchanged team but neither are guaranteed to start.
"At this stage (Pietersen) is still not running fully," said Meyer.
"I will give JP until Friday to prove his fitness. Hopefully by then there will be an improvement. I would hesitate to describe Gurthro as 100 percent. We are at a stage of the season where there are lots of little niggles and very few players are 100 percent. Hopefully Gurthro will be ready, I am sure he will be.
"There isn't really a risk (in naming a half-fit prop) as the laws dictate that we choose a whole extra front-row on the bench so we will be well covered there. We have Heinke van der Merwe as back-up and he played really well for us at a crucial stage after coming onto the field against Ireland in Dublin.
"It is good to stick with the same team if you can and we do want some continuity. The performances so far may not have been complete, but we did win, so I am happy to stick with the same team.
"I think what is important in this match is that we get the minds ready even if the bodies aren't," said Meyer.
"It is amazing what the mind can do, and the players also know that I am a coach who doesn't like excuses. So they are just going to have to show mental toughness and dig deep, and I am sure they will. There won't be a full team training this afternoon (Wednesday), there will be a lot of guys sitting out, but the challenge is to be ready and switched on by Saturday."
Star lock Eben Etzebeth was found not guilty of foul play at a not guilty of foul play and Meyer said his presence was invaluable to the Boks' cause.
"Eben is such a good player that I really think he may be the best number four lock in the world at the moment," said the coach.
"He has helped us to a 100 percent record in the line-outs in recent games and he also adds considerable weight to the scrums.
"He is also an important presence in the team as an enforcer, a player who helps us get the physical superiority on our opponents. Against England he has an important role to play so we are really pleased that he was cleared to play."
"In these conditions you don't get quick ball and Eben is great at the breakdown, he is a physical guy there and his cleaning technique is excellent.
"We were dangerous when we played England at Ellis Park (in June) because we got quick ball."
The former Leicester director of rugby, does not consider England as a side to with a soft underbelly.
"Looking back I always looked on England teams as great teams but I never thought they were so tough but when I coached at Leicester I was really impressed by their physicality," added Meyer.
"Lewis Moody and Martin Corry and those guys are probably the toughest guys I have coached. My whole perception has changed.
"They always bring it physically. It will be a bruising encounter.
"The last three Test matches were really physical and that was at the end of their long season. Now they are fresh and we need to toughen up and put our bodies on the line.
"I have a lot of respect for their scrummaging power. Dan Cole, I believe, is close to being the best tighthead in the world. They have really good line-outs and defensively they are a good team."