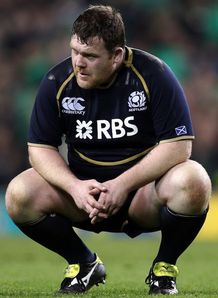 Related links
Teams
Scotland prop Allan Jacobsen is retiring from international rugby after winning 65 caps during over 10 years for his country.
Known throughout the game as Chunk, the 34-year-old Edinburgh and Scotland loosehead prop announced his decision on Monday.
"To play international rugby you have to be absolutely committed. You have to make sacrifices and do all the extra stuff in training and preparation to be right," said Jacobsen.
"I've always tried to do that throughout my career and playing for Scotland has meant the world to me.
"But the minute there is the possibility of it feeling like a chore . . . well, that's the slippery slope for me and I would never want to do anything that would either devalue the Scotland jersey or anything that I've achieved."
Scotland head coach Andy Robinson praised Jacobsen's contribution to the national side and wished him well.
"Chunk has been a great servant of the Scotland team and on behalf of the team management I want to thank him for all his endeavours," said Robinson.
"I particularly admire how hard he worked to fight back from injury after the 2007 Rugby World Cup and the effort he put in to be our starting prop in all four games at last year's World Cup in New Zealand.
"Chunk has often said that rugby has been good for him and his family and now that he wants to make his wife Gayle and daughter Maisie a bigger priority, then I'm sure all rugby people will support Chunk at this time and in the future."