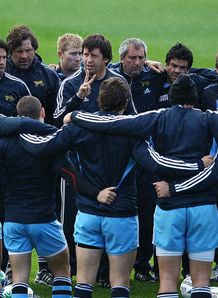 Related links
Teams
The All Blacks prevailed over the Pumas with a comprehensive 54-15 victory. Now we rate the South Americans at Unico Stadium in La Plata.
15 Lucas Gonzalez Amorosino: Found the hole in the first Pumas' try and greatly assisted scrum-half Martin Landajo. Nevertheless, he didn't look like a safe full-back and made some wrong decisions in the contest. 4/10
14 Gonzalo Camacho: The small wing was brave in bringing down the black giants. He got some reward with a try in the second-half after an outstanding second movement against Andrew Hore. 6/10
13 Marcelo Bosch: Argentina's best tackler was solid again on Saturday. His effort for the team wasn't enough to avoid the Pumas loss by 39 points. 6/10
12 Santiago Fernandez: Lost his man-on-man battle against the world class Ma'a Nonu while was somewhat absent in attack. 4/10
11 Horacio Agulla: Didn't have chances to score. He had to defend the black wave most of the time. 5/10
10 Juan Martin Hernandez: Good as usual on with his tactical kicking game but he wasn't able to spark the local's attacking gameplan in La Plata. 5/10
9 Martin Landajo: Was the star when scoring despite Brodie Retallick's tackle. After that glorious moment he kept on trying to impose a fast-paced game for the Pumas but couldn't manage it. He also made a few handling errors. 4/10
8 Juan Martin Fernandez Lobbe: The skipper was always in the thick of it. His never-say-die attitude was not enough though facing such an opposition. 6/10
7 Juan Manuel Leguizamon: Lost out against the Kiwi back-row. Not a real attacking option for the Pumas either. 5/10
6 Julio Farias: Didn't appear much in attack and spent the whole Test match pursuing and tackling opponents. 5/10
5 Patricio Albacete: The Pumas first choice in the line-out was guaranteed ball in the set-piece. Worked hard in the losing cause. 6/10
4 Manuel Carizza: Manu was not used much in the line-out and rarely was on show in the loose in quiet shift. 5/10
3 Juan Figallo: Tackled and battled hard in the front row. 5/10
2 Eusebio Guinazu: Was once again solid at the line-out but was overwhelmed by the strength and speed of the All Blacks. 6/10
1 Rodrigo Roncero: Much like Guinazu, he lost the battle against Franks, Hore and Woodcock. The old loosehead prop of course had 100% heart. 5/10
Replacements:
16 Agustin Creevy: He wasn't much noticed during the game. 4/10
17 Juan Pablo Orlandi: Didn't play long enough to warrant a rating.
18 Tomas Vallejos: He showed himself as a support in the close game. The Scarlets lock played very few minutes to be considered as an alternative in the second-row. 6/10
19 Tomas Leonardi: The game was completely uneven when he got in the field. Leonardi made a decent performance. 6/10
20 Nicolas Vergallo: Didn't play long enough to warrant a rating.
21 Martin Rodriguez: Didn't play long enough to warrant a rating.
22 Juan Imhoff: He didn't have many chances to carry. 5/10