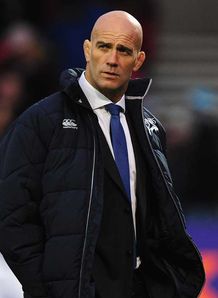 Related links
Teams
Also see
John Mitchell has bluntly warned his players that the "excuse culture" surrounding Sale Sharks has to stop to avoid relegation.
The Sharks 62-0 hammering against Toulon was the latest chapter in a dismal season that has seen Sale struggle to get going despite a new stadium and numerous big-name signings.
Mitchell arrived back at Sale three weeks ago but the Sharks fortunes are yet to turn around, with a crucial away fixture against London Wasps this weekend now looming.
"Unfortunately, this environment has become too much of an excuse and explanation- based environment," Mitchell told the Manchester Evening News.
"The place is full of excuses and, ultimately, the players are the only people who can turn this around.
"The mindset needs to change and the will to win needs to change.
"We were that far away from breaking Toulon, instead we chose to break, so it's about demonstrating how you can stay in contests regardless of the reputation of the opposition.
"It's more of an emotional thing - they've just lost the art of staying longer in the contest than the opposition and that's what we're trying to re-teach here.
"The boys fell short and gave up on each other when they almost had the opposition broken before half-time.
"Some individuals let us down around that 34/35 minute mark. If we had gone in it half-time just 3-0 or 7-0 down, the contest would have been a different story.
"The contrast between the two Toulon performances at home and then away was a concern and, clearly, some guys are still not reliable turning up week in, week out. It certainly revealed some of the character that I thought was here and concluded some thoughts I already had.
"But that's gone. I'm now focusing on getting a result this weekend and about making sure we get a very reliable tight group out there on Sunday."