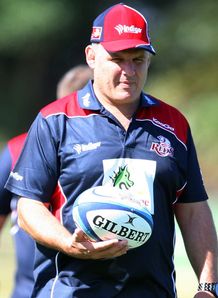 Related links
Teams
Also see
Reds boss Ewen McKenzie expects Quade Cooper to play Super Rugby with the Reds in 2013, despite not hearing from him in the past few days.
Rumours circulated on Monday that Cooper had quit Australian Rugby after a fallout with the ARU, prompting speculation that the fly-half would either move abroad, switch codes to rugby league or take up a career in boxing.
"I've got nothing. I haven't spoken to him, we haven't spoken to him as a union so I can't really tell you anything," said McKenzie.
"I'm not going to speculate whether it's true or not. The information's out there, whether it's true or not I don't know ... so we'll just see what happens.
"I haven't heard from Quade so if I do that might give me some comfort but he knows I don't have any influence over the ARU (negotiations) so that's probably one of the reasons why he hasn't rung me about it.
"Queensland's done all it can do in terms of securing him for the long haul for Australian rugby, but it's out of our hands."
Despite the lack of contact, McKenzie remained confident that Cooper would honour the three-year contract extension he signed with the club back in June.
"He's given us his word ... and I spoke to him seven or eight days ago and as far as I was concerned I never felt that he was going to do anything other than play for the Reds, so that's how I'll approach it at the moment until somebody formally tells me otherwise," added McKenzie.
"We've made plans for next year around (Quade) and we're going to continue as if those plans are unchanged.
"If it changes that will be disappointing but at this point in time I've got nothing other than some stories that were put out last night and whether they're true or not we'll find out."