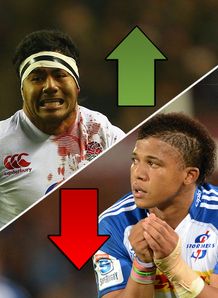 It's time for our wrap of who has their name in lights at the moment ... and who is making the headlines for the wrong reasons in rugby this week.
They're on fire!
England: Now that they're over the French hurdle, it's hard to see England missing out on the Six Nations crown. Surely Italy will not pose a problem at Twickenham, meaning Chris Robshaw and co. should head to Cardiff with a healthy points difference. Any Championship-winning campaign needs a splash of luck and Manu Tuilagi's fortuitous try on Saturday looks set to be a crucial moment in the title chase.
Scotland: Sunday's success over Ireland at Murrayfield meant that the hosts recorded back-to-back Six Nations wins for the first time since 2001. Victory over Wales next week would even keep them in the hunt for a maiden title.
Thierry Dusautoir and Wesley Fofana: Once again, 'Titi' has been a shining light in the gloomy atmosphere that is surrounding Les Bleus' Six Nations campaign. France's captain is the tournament's top tackler, having made 37 hits without missing a single one. Fofana was finally returned to midfield at Twickers and found his way to the tryline... 'nough said.
New Zealand's Super Rugby conference: This is the way rugby is meant to be played. With so much televised sport on offer these days, it's sometimes hard to choose what to prioritise. So often the 'big' games fail to deliver - on both sides of the equator - but it's a rare thing to witness a boring game involving the Kiwi franchises. If you need convincing, check out the highlights from the Highlanders v the Chiefs last Friday.
The Brumbies: Two from two, top of the overall table, looking solid. The Brumbies revival continues.
The Kings: No team has ever won on debut in Super Rugby - until now. Sure, playing the Force at home is the easiest fixture on the calendar, so things will only get harder. But credit were credit is due because the Kings have already exceeded most pundits' expectations.
Sergeal Petersen: The youngest South African in Super Rugby since 1997 sent the Kings faithful wild by scoring two tries, including what proved to be the match winner against the Force. Just three months ago he was in high school, now he is the toast of Port Elizabeth.
Blues youngsters: Francis Saili, Charles Piutau and Steven Luatua were all outstanding against the Hurricanes. They were also all born in 1991, so they should have plenty of years ahead of them. Add to the mix the likes of Frank Halai, who scored two tries on debut, and the future is looking bright in Auckland.
Saracens: Trailing 17-6 at half-time at Welford Road, Sarries looked down and out. Four second-half tries later, the visitors claimed a remarkable comeback victory - their fourth successive (regular season) win at Leicester - to retain second spot in the standings and close the gap on Harlequins to a singe point.
Treviso: A five-try win over Munster is something to be proud of. Before fans in Limerick start complaining about players on Six Nations duty, they should ask themselves which team provides of the bulk of Italy's squad.
---
Brrrrr....someone put the kettle on!
Philippe Saint-André: France's head coach was on the verge of tears at Saturday's post-match press conference and we're not surprised. The knives are truly out in the French press corps. The visitors were the better team for about an hour but some curious tactical changes from PSA saw the wheels come off and England seize the initiative. The Wooden Spoon is a real possibility and PSA's job must be under threat.
Ireland: How do you lose a game when you enjoy 71 percent possession and 77 percent territory? Ask Declan Kidney, because we don't know.
Dimitri Yachvili: Biarritz's loss at home to Racing Metro was further soured when the home scrum-half stamped on Racing centre Henry Chavancy's leg, sparking a dust-up. Yachvili saw yellow but deserves a lengthy ban for his disgraceful actions, which were worse than those that saw Cian Healy handed a three-week suspension. Have a look at 1:50:45 here. Unfortunately, France's farcical disciplinary process means he is unlikely to face a hearing before Friday's Basque derby with Bayonne.
Leicester's meltdown: As mentioned above, Tigers blew an 11-point half-time lead on home soil against fellow title contenders. We doubt the tone of Richard Cockerill's subdued comments to the press afterwards would have been repeated behind closed doors.
Elton Jantjies and the Stormers: Heard from a Bulls fan at the weekend: "You don't take second-hand Lions into a Bull fight." 0/4 from the kicking tee was not the kind of Stormers debut Jantjies was hoping for. Coach Allister Coetzee called his team's first-half performance "an embarrassment to the Stormers jersey." They will seek redemption at the 'Shark Tank' on Saturday.
Craig Joubert (if you're French): South Africa's top ref is to France what Bryce Lawrence is to South Africa or Wayne Barnes is to New Zealand as many French fans still hold a grudge in the wake of the infamous final 20 minutes of the 2011 World Cup final. He's no more popular after this weekend's loss to England. "I won't comment on the rucks nor the decision to award (Tuilagi's) try. We know Joubert," said Saint-André. Ouch.
By Ross Hastie
@RossisHastie