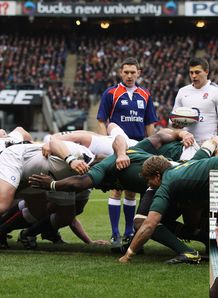 In a new series of columns, Planet Rugby's James While catches up with a group former international stars to get their views on the end-of-year Tests: this week he speaks to former England skipper and the most capped British Lion in the professional era, Martin Corry.
With the second week of November's internationals completed, already some interesting results have turned the form book upside down. Australia - thrashed by France - bounce back to beat England on their own turf; Wales - at one point last year a real World Cup contender - put to the sword by two of the emerging nations. Indeed, it's been a thrilling month already and there's plenty more in store.
England's much-vaunted tempo-based game was derailed on Saturday, by an Australian side who, with openside Michael Hooper defining the collective effort, dominated close quarter exchanges and, surprising many, edged it in the scrum battle.
"Stuart Lancaster and the team have been very honest and also focused in where they believe England need to be as a team. He's building and creating an environment for international players to succeed. I know there's a good group of players there with the right character, and this is about a journey for them, where they learn and gain experience on the job'", explained Corry.
"Looking forward to the South African game, I always felt that this was England's best chance of a SH scalp this autumn, purely because, in stark contrast to the ever-inventive Aussies, we know exactly how the Boks are going to play. On that basis, we know exactly what we need to do to beat them. Australia were very streetwise on Saturday, and the interchange between Beale and Barnes at 10 and 15 is precisely what England are aspiring to achieve with Alex Goode and Toby Flood.
"Losing will be a bitter pill to swallow for England; in particular the front row will be disappointed that they could not get any superiority. The Wallabies are a very clever side and, put simply, we were out-thought at times, especially at breakdown and scrum time.
"Two years ago, South Africa came to Twickenham and absolutely battered us. We know, from that meeting alone, and what we saw in the summer, that if you match their physicality then you're half way there to beating them. Yes, the set piece will be key, and I expect Alex Corbisiero to return for Joe Marler, which will make a considerable difference, but it's the collision area where we need to compete - hitting them as hard or harder than they hit us. Do this and we're in with a very good chance."
What of England's mini-ruck game that looked so attractive against Fiji? The Australians countered this by understanding England's intentions, and led by the superb Hooper, committed numbers to counter ruck. Against South Africa, will the mini-ruck game work?
"In order to play at that level of intensity, you have to commit opposition defenders to the ruck to create space in their defence," explained the former Tigers loose forward.
"The recycle is crucial, as is the need to get in behind their tackle line, even if it's only by a metre. That creates momentum and go-forward. I believe England will select a slightly more physical side, and look to counter the Springbok power in the close exchanges.
"In terms of selection, this is not a game to throw rookies in. I think you need guys who have experienced that 'green wave of power' before. It's a horses for courses approach. So don't expect the youngsters like Launchbury to start just yet, but I'd expect Tom Wood and James Haskell to return to the matchday 23 to add bulk, with perhaps Wood to start and Haskell to bench, with Johnson (who's been impressive) being the unlucky man for this match.
"Again, the backline came in for a little criticism, but my question would be not so much about changes, but more so how do we get the best out of the likes of the talent (like Alex Goode) that we have? It's pointless allowing players to learn, then jettisoning them after they've gained the experience they needed!" added Corry.
Over in Wales, things look bleaker than for many years. A side that could claim they came within a card of a World Cup final have collapsed to a mere shadow of their former selves. Argentina beat them fairly and squarely, and their perennial bogey side, Samoa, again came to Cardiff to spoil the Welsh party. Can things get any worse for the Welshmen?
"I have to say, if you've just come off the back of two defeats at home, the last side you want to play is New Zealand. They'll expose any weakness you have. It'll be an absolutely brutal game, and if Wales end up wanting to play from broken field, as is their style, they have to realise the All Blacks relish de-constructed rugby," commented Corry.
"By saying that, Wales have engineered their own downfall through very simple mistakes. Two tries against Samoa were down to poor forward tacking and ruck 'guarding', basic functions. And sides look to match up quick men against props and that's exactly what happened. It's so fundamental it's untrue, and mistakes like that cannot occur in international rugby if you want to succeed.
"I don't believe this is down to Gatland missing, but Wales need to prove a point. It's a game where performance is as important as the result, but I cannot see anything other than a convincing NZ win."
Ireland missed a full international last week, preferring instead to lick their wounds after losing in Dublin to South Africa. They face a resurgent Argentina - a side that's clearly benefited from their inaugural season at rugby's top table, the Rugby Championship. Clashes between these two sides have produced highly entertaining and close games in recent times. Will this one be anything different?
"Ireland v Argentina always seems to be an epic battle!" said Corry.
"Although Argentina are playing a more fluent game these days, their first tactic is always to stop the opposition from playing, and this will be no different. They've got a superb pack in both tight and loose and Ireland will need to match them in every area to come out on top. Ireland need to maintain the physicality up front, but increase tempo behind and execute. You don't get many chances against the Pumas, so you need to make sure you take every point, as many sides know to their cost. Argentina are improving all the time; they know their limitations, play low risk rugby and hit hard around the forwards.
"It'll be a tough game, but it's Ireland's to lose."
Up in the north, Scotland's run of defeats continues. With their strength in the back five of the pack, many felt their best chance of success against the big boys this autumn was the South African game, but again, they were simply bullied to defeat. Some now are questioning the Scottish self-belief and coach Andy Robinson is coming under increasing pressure to retain his job.
Corry believes that the Tonga game, whilst a must-win, will be welcomed by the Scots as a fixture to right the recent wrongs.
"This is the ideal opportunity for the Scots to bounce back," said Corry.
"However, if they try to play anything other than their natural game, they'll struggle. Tonga are inventive, hit hard but are not 'traditional' in the way they play. Hits come from everywhere and all of their players are athletes. The Scots need a pragmatic approach; concentration is key. Just play your game and don't get side-tracked by what the Tongans are trying to do. Scotland need to hit their straps, get some real self belief back, but that concentration is key. And don't for one minute, take Tonga lightly. This is a proper Test match in every sense."
Corry admits that as much as the England/South Africa game has got his juices flowing, the France v Samoa game is something he'll also be taking a big interest in.
"It's a huge collision game isn't it?" he responded.
"Against Australia, the French scrum was sensational. They monstered the Wallaby pack and that was the foundation for their convincing win. I know this will have huge hits in the loose and some exciting rugby, but if France scrummage as they did against Australia, Samoa will have no platform at all from which to launch their big power plays. I suspect France will win comfortably in a physical encounter, but it'll be a hell of a game to watch!"