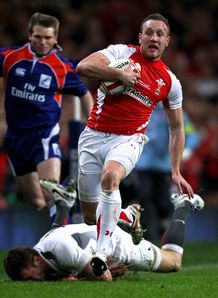 Related links
Teams
Also see
Scarlets and Wales full-back Morgan Stoddart has announced his retirement after failing to recover from a serious double leg fracture.
Stoddart has been unable to make a full recovery since sustaining the injury before the 2011 Rugby World Cup, and which subsequently kept him out of the game for the whole of last season.
Stoddart, 28, who has appeared 85 times in a Scarlets shirt and scored 130 points for his regional club has been one of the Scarlets' most prolific back three players with spells on the wing as well as his favoured full-back position.
Recognised as one of Scarlets' x-factor players and one of their most dangerous and attacking back three names, he joined the Scarlets in the 2006/2007, making his debut against Edinburgh on 5th January 2007, and scored a 25-yard try against Ulster in his second ever game in January 2007 in the Heineken Cup - a habit he continued with 26 tries to his name during his seven years with the Scarlets.
Stoddart returned to action this season in October 2012 following over a year of treatment and detailed individual rehab work with the Scarlets medical team. His first game back was against the Dragons where he scored his last try in a Scarlets shirt.
He secured eight caps for his country and was well on the way to his first Rugby World Cup when the injury occurred.
"It is with real sadness that I have to announce my retirement from rugby and it has been a difficult few months as I come to terms with the fact that I was not going to return to full fitness," said Stoddart.
"I have been very fortunate to play for the Scarlets and Wales and have enjoyed every game in my professional career working alongside some brilliant fellow professionals.
"I worked as hard as possible in the year I was off to get back on the pitch and that can be a difficult period for any injured player mentally, as well as physically, but I was determined to get back to playing.
"But ever since I've been back on the field I've had significant pain in the leg throughout and that has not improved. Following a series of medical tests and consultations, detailed scans and strength tests, I've been advised that I cannot continue.
"It's not easy to give up your rugby career but when it really is impossible to carry on you just have to accept it and get on with it.
"I have some great memories that I will never forget and the Scarlets and all our supporters have been fantastic over the years. It was an honour to play in the Scarlets shirt, with all the great names that have been part of our region throughout our history and a pleasure to play in front of our Scarlets supporters who are the life and soul of our region.
"I will miss all the spirit and passion of Scarlets rugby and the level of commitment and hard work the players put in for our region and its supporters of which I have been proud to have been a part.
"I'm grateful for all the great opportunities and experiences I have had in my rugby career and there are many brilliant memories including the Heineken Cup with the Scarlets and playing for my country.
"I owe a great amount to the physios and doctors who have given me so much time and commitment to help try and get my leg right, without their support and encouragement it could have been a dark 14 months in recovery.
"I would also like to thank all the coaches I have worked with from my first games in the Rhondda up to international level."
Scarlets boss Simon Easterby was full of praise for Stoddart, highlighting his strength and commitment to try and return from injury.
"It is very disappointing for Morgan and for all the Scarlets team and our supporters to see a player of his ability and quality forced to retire early," said Easterby.
"He's been a player of real class and quality within our regional ranks ever since he joined the Scarlets and a player that you can rely on to make a difference in games and give you an edge. He has worked so hard to try and recover from this horrific injury and credit to him for even getting that close, that shows his great mental strength and commitment.
"We are very sorry to see him go and every one of the team and I am sure all our supporters wish him all our very best in his future life off the field and as Scarlets we will support him as much as we can in whatever he chooses to do."