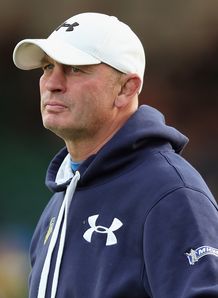 Related links
Teams
Clermont coach Vern Cotter believes his side's victory over Leinster at Stade Marcel Michelin has put pressure on the Irish province ahead of Saturday's return match at the Aviva Stadium.
Clermont's 15-12 win ended Leinster's 17 match unbeaten run in the Heineken Cup which included two wins over Clermont, as well as two Heineken Cup final victories.
But their loss in France has left them five points adrift of Clermont at the top of Pool 5.
The return match will be vital as it could determine who takes the automatic quarter-final spot from the Pool.
That's why Cotter feels his side can go to Dublin without any heat on them.
"They came here to win the game and we were able to wrestle that away from them," he told the ERC website.
"We will be able to go over there and enjoy the event next weekend because there will be a little bit of pressure on their shoulders.
"It was a tense affair and a good battle - one of the most intense games we've played here for a long, long time. Four points is what we wanted and needed and they will do us a world of good.
"It was a good old boxing battle out there. We exchanged blows from the start to the end and we luckily sneaked away with a three point advantage.
"We are happy with the win, but not with the way we played in the second half. We didn't hold onto the ball long enough and they kept coming at us and are a great team.
"But, hopefully, this win will give our confidence a bit of a lift and allow us to go to the Aviva and not get treated to the same 24 points as we did two years ago."